Lite-On's USB-powered eSAU108 DVD/CD drive

An external USB2 CD/DVD drive is obviously extremely valuable for those who have a netbook or a notebook that lacks such a drive. Furthermore, it can often rejuvenate a somewhat tired machine or even one with a dead DVD drive. The Lite-On eSAU108 series are USB-powered and are thus easy to connect and use.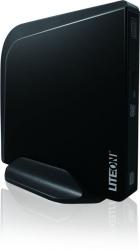 click image to enlarge
A proliferation of mains adapters is always a nuisance. Consequently, being able to power a writer directly from a PC is obviously a boon. However, although these drives are claimed to be very power-efficient, sometimes the peak power drawn during some random read/write operations may, with some computers, exceed that available from a single PC USB port. To ensure that this does not become a problem, the drive incorporates technology to carry out a power check. If it is found that the power would be inadequate, the power LED on the rear of the unit glows red instead of its normal blue. The user then inserts the second plug on the supplied cable into another USB port so as to spread the load.
Coming bundled with Nero 8 Essentials for Windows it was a straightforward in operation for both reading and writing of CDs with a maximum write speed of 24X. The drive's specification states that R and RW single layer DVDs are written at 8X with double layer discs at 6X.
Roughly 15cm square by 2cm thick and weighing 350gm including the supplied USB cable, this slimline front-opening 8X DVD/CD writer is hardly a burden to carry around. Even though it's polished black surface will show finger prints its appearance is enhanced by black matt borders.
Although the additional power lead on the USB cable is about 50cm long, the normal portion of the cable is only about 15cm long. As this may be inconvenient to use when the USB ports are on the rear of the laptop, I tried writing a CD when using a standard 1metre long USB extension cable. This did not appear to affect the performance.
The fact that Nero Linux 3 Essentials is also provided will enable this drive to be used with Linux-based netbooks. A list of supported Linux distributions is provided.
Overall, I had no problem installing the software and using it with my notebook even though it would have been nicer if it had been supplied with a longer USB cable and a slip-case to stop it getting scratched when carried around with all one's various computer bits and pieces.
Available on Amazon for around £40, the Lite-On eSAU108 will be considered essential by many netbook users as well as enabling a number of users to defer replacement of older laptops for quite a while.