A Remote Control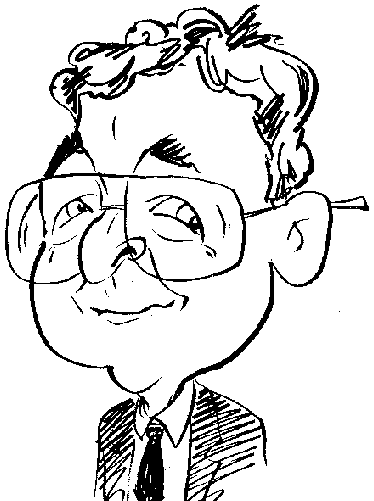 Review controls
The greater majority of remote controls tend to have an over abundance of control keys covering as many features as possible. However, for some, these devices tend to be complicated.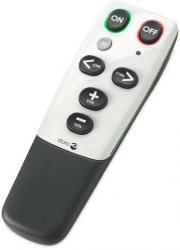 click image to enlarge
While Doro's main line of interest is concerned with various aspects of telephony, the company does have some other products in its portfolio. One of these products, from its Care Electronics division, is the HandleEasy 321rc. Described as a universal remote control, the HandleEasy 321rc comes with the claim of being the "world's easiest remote control" and has been designed for those who have limited dexterity. As the device has just seven buttons, of which six are rather large, it would be difficult to argue with the dexterity aspect although the need to program these buttons might count against the "easiest" claim for those who have limited dexterity.
Measuring 165 x 52 x 25mm (L x W x D), the device sits comfortably in the hand. Decked out predominately in grey and white, Doro has given the device a splash of colour with a green trim running around the button pad element plus, appropriately, green round the On button and red round the Off button. This remote control is powered by three AAA batteries which are supplied with the product.
Doro has labelled the unit's various buttons as On, Off, AV, <CHN, CHN>, VOL+ and VOL-. While most users would be inclined to stick with these designations when it comes to training the buttons, there should be nothing to stop you choosing different options for these buttons as the learning process is implemented.
Checking the various remote controls that I use on a regular basis, I noted that the number of controls on these units varied between 35 and 42 different selections. From this it becomes clear that a great deal of pruning would be required if you were intending using the HandleEasy 321rc to take over from an existing remote control. It is possible to train the Doro device to handle controls from more than one of your existing remote such as channel up and down for a set-top box and volume adjustment for the television. However you would still be limited to just seven controls.
Training or programming the HandleEasy 321rc has to be started for each button to be paired with one of those on the HandleEasy unit. This process is instigated by holding down the On and Off buttons simultaneously for three seconds. You then need to point the existing remote towards the HandleEasy unit at a distance of no more than 4 inches (there is also a ten second limitation to do this otherwise the training mode is automatically cancelled) while depressing the buttons to be paired for around ten seconds. If the process is successful then a light will flash twice on the HandleEasy or six times if an error is encountered. You will need to carry out this process for each of the HandleEasy buttons.
For many users, who have the usual collection of multiple remotes, the HandleEasy 321rc will be totally inadequate. Even for users with a basic set up of a television, and possibly a set-top box, the task of having to cycling through the various channels rather than simply press the channel number might prove to be annoying unless, of course, their dexterity was severely limited. The HandleEasy 321rc has been priced at £19.99 which seems a little high for a device of extreme limited functionality.
http://www.doro.com/global/businessunit/dorocare/product?c=0&p=321RC