LeapFrog Epic Tablet for Kids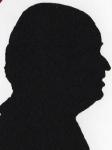 A Tablet computer running Android intended for use by the young. It looks like a rugged device used on say a building site with lots of protection around the sides of the unit and of course the average pre school child is just as tough on toys if not tougher.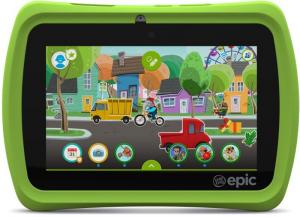 click image to enlarge
The Leapfrog Epic tablet measues 22.5x15.5x2.5cm and weights a touch under 600 grams.
The initial setup should be done by an adult – even if it's for an older child – to set up age group and all Internet use should be set by site which requires the parent's password.
I always have my doubt about such devices once a child reaches school age as they seem to want the 'real thing' rather than something designed for them. I see babies in pushchairs using their mothers SmartPhone often before they can talk, so what has a Tablet like this to offer say an eight year old so I entered myself as that age.
Once school age is reached the child should be more responsible and random pokes at the screen to produce a noise or action are long past.
The viewable screen is 15.5x9cm which gives a seven inch screen. By that age the soft lime green rubber surround can be dispensed with as perhaps the soft tipped stylus on lanyard so that is how I tested it.
A firm rubber back and still padded sides can still cope with the odd drop or three.
All the controls are along the top when used in Landscape form, 3.5mm socket for earbuds, micro USB socket for charging and micro SD card slot are all in a line with the on/off button and volume rocker to complete the controls.
A push on my name produced a colourful front screen which I would probably have loved at three or four by now at eight I found it less interesting as were most of the supplied Apps. All my friends have real computers so why have I got this toy. OK enough of trying to see into the child's mind.
62 Apps are installed most are for those of pre school age, it does have a Quad Core processor and reasonable volume.
Maybe the Calendar and Camera Apps on the front screen will still be of interest. The search certainly will if suitable sites have been setup. The Supermarket trolley means spending money as of course some Apps installed have payable levels and certainly lots of extra Apps are payable.
Just under the screen are the normal Home and Back buttons.
I liked the old style town hall clock that tells the correct time.
The weather app was nice and perhaps a reminder to the child to take a coat to school when rain is expected.
Now as a parent you could use this Tablet to search out suitable sites and add them and possibly your eight year old will be happy, probably not but as a pre-school three year old I would say yes.
This is not a cheap Tablet but it should keep a youngster amused and perhaps save the parents money as their expensive SmartPhone may avoid damage and of course those horror stories of children spending lots of real money to buy game credits for adult games.
The LeapFrog Epic Tablet is available from the link below for £119.99 with free delivery.
http://www.amazon.co.uk/gp/product/B010NMTJA6?ie=UTF8&tag=gadge0a-21&linkCode=as2&camp=1634