Ben Q Panel RL2755HM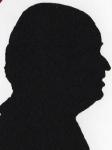 This is a 27inch flat panel designed for those you need accurate and rapid display, yes it's something designed for gamers. As it says on the carton 'Gaming is in the details' so this 27inch panel gives all the detail with rapid refresh rates.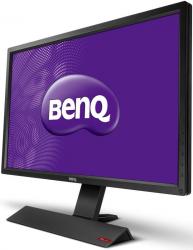 click image to enlarge
This Benq gaming monitor measures 64x37.5x2.4cm, the latter at the edges. Its stand is in the form of an inverted 'T' with the front part being 35x7.5cm and the stroke being 13.5cm deep with the uplift being on the stroke. This raises the screen by 10cm from your desk or table.
There is a good amount of back tilt and a little forward movement from the vertical.
The viewable screen is 59x33.5cm and that gives the notional imperial diagonal measurement of 27inches.
The on screen controls are accessed from a vertical line of six buttons at the bottom right edge of the screen surround.
The connections in a line on the rear of the unit are – from left to right – VGA, DVI and two HDMI ports, then the central support bar followed by 3.5mm sockets for audio out via headphones, audio in for those using VGA and mains power in via kettle type plug lead.
While a lot of screens of this size will display more in terms of size this unit just shows 1920x1080 but does it with a very fast refresh while still being kind to eyes.
1000:1 contrast ratio but the dynamic ratio is 12million to 1. While on figures you get 16.7million colours and the viewing angles are 160degrees side to side and 170degrees top to bottom.
This unit was designed with the console gamer in mind and while the needs of mere mortals using it for work purposes are still covered they are secondary to those of the gaming fraternity.
The response time to a gamer is life and death and a look at an example shown on the second link below shows the differences that are achieved.
One thing on the back that I have not mentioned is a retractable headset hook, while the speakers in the unit are better than in a lot of such panels a gamer will need his/her headset as they pick up slight noises quicker and without other noise to distract like a doorbell or phone ringing lets then concentrate on their gaming life – or death. So having somewhere to hang your headset when not in use is a nice touch.
Having two HDMI inputs allow the panel to be used for other things without needing to disconnect and perhaps from the gamers point to be able to play another using the same screen head to head.
Colour modes can be set for gamer preference as indeed can Colour vibrancy with twenty level choices.
For gamers - and even modern movie viewers – black is the killer how often has something come from the black here the unit has 'eQualizer' which lightens dark areas without over exposing the bright areas. I must admit a lot of recent movies have this problem and watching one lets the plot be followed easier with this feature.
Finally Ben Q engaged a gaming expect on fighting control to help them design this unit.
As a mere mortal of great age I am more interested in my eyes and low blue light technology helps and well the flicker free technology.
The Ben Q RL2755HM is available from the link below for £211.46 with free delivery.
http://www.amazon.co.uk/gp/product/B00SJANIWA?ie=UTF8&tag=gadge0a-21&linkCode=as2&camp=1634