Viewsonic's videoconferencing monitor

Viewsonic's full HD webcam LED monitor VG2437SMC has built in microphone, webcam and speakers. This obviates the need for separate camera and speakers and so provides a professional approach to videoconferencing in the office or even in the home.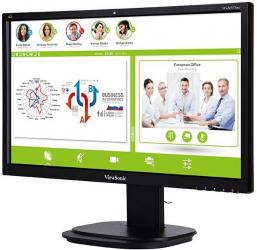 click image to enlarge
This 24 inch widescreen monitor is 22 inches wide so doesn't take up too much desk space. It can be tilted through a range of -5 to +20 degrees and has approximately 5 inch of height adjustment. In addition, it can be rotated from the normal landscape orientation to portrait. This is also very useful for providing access to all the connections which are on the underside of the monitor. There are also the standard 10 x 10cm VESA mounting holes.
The VGA, DVI-D and DisplayPort inputs are all grouped together with the Mike In/Out and headphone connections alongside at the right hand end. USB 2.0 input and two outputs as well as power are at the left as is the audio in.
This LED monitor's native resolution is 1920 x 1080 and it provides a sharp bright image and, using TFT Active Matrix technology, provides a wide viewing angle which is claimed to be 170 degrees horizontal and 160 vertical. In practice, although one is not likely to want to go to this extreme position, one can move quite a long way to the side and still have a very acceptable view. It is specified as having a 5mS typical response time and a 1000:1 contrast ratio.
For the purpose of videoconferencing, by integrating a 2Mpixel camera, two 2W loudspeakers and noise cancelling microphone into the monitor, it gets rid of the inconvenient and untidy clutter of the separate items. Furthermore, there is no separate camera to slip off the top of the monitor at the most distracting moment.
In practice, one sets the height and angle of the screen to set one's head conveniently in the centre of the screen. Where there is more than one person involved in the conference the whole unit can be easily be swivelled on its turntable base to the most convenient position to frame all the participants.
It has been designed for use with the widely used conferencing applications: Microsoft Lync (soon to be Skype for Business) and Skype, Google Hangouts, Cisco Jabber and Webex, Citrix Gotomeeting or Viber, the VG2437Smc and is a straightforward way of facilitating individual and small group videoconferencing and certainly a vast improvement on having people crowding around a laptop.
Irrespective of whether one is using Skype or any other videoconferencing applications for business or other purposes, one wants to get on with the task in hand without avoidable distractions. Having everything integrated within the monitor is extremely useful and, if one takes into account the additional costs of external camera and speakers and the overall quality of the unit the SRRP of £299 ex VAT price is not unreasonable. However, the Amazon price is just £203 although not currently in stock "but order now and we'll deliver when available" sounds very attractive.