AOC value 28 inch screen

The AOC M2870VQ is a 28 inch 1920 x 1080 full HD wide screen monitor with the performance and connectivity to meet most office and home needs and, being a "value line" product, it is not priced out of the reach of those who want a very large screen.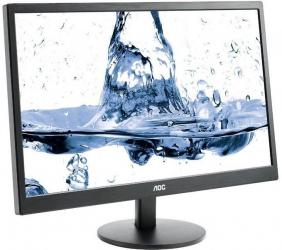 click image to enlarge
It employs an MVA panel, a LED backlight and has brightness and contrast ratio claimed to be 300 cd/m2 and 3000:1 respectively, a viewing angle of 178 degrees and a 5mS response time. While we can read these figures in the specification all too often they don't mean much to us as, after all, we are only really concerned with whether it will do what we want. In practice, I found that the image quality of M2870VQ is more than adequate and found no blurring when watching action movies. I cannot, however, imagine that anyone would really want to view the screen at an angle approaching 178 degrees as claimed in the spec.
This monitor is approximately 67 cm wide overall and 40 cm high with a polished black bezel -- 3cm at the bottom and 2cm on all other sides. There is no height adjustment but, with the lower edge of the screen 5cm from the desk, it sits comfortably just above the height of a keyboard. Although the screen does not have a matt non-reflective surface I did not find that a problem under normal usage. Its tilt range of -5 to about +20 degrees could deal with any reflection problems as well as enabling the monitor to be set to a comfortable viewing angle. In addition, the monitor has VESA mount screw holes on its rear surface for mounting on a wall bracket or cantilever arm.
It has a full range of inputs -- D-Sub, DVI, HDMI and DisplayPort and so can be used with an old PC as well as having the connectivity for the latest machines. Its size of screen is ideal for watching movies -- and as the monitor is HDCP (High-Bandwidth Digital Content Protection) compatible the full range of movies can be watched. Although it is a minor point, I was disappointed with the speakers, and soon reverted to using my stand-alone ones.
The on-screen display controls are set in the lower edge of the bezel. However, the supplied CD, in addition to the instruction manual, also had the On Screen Display and the power efficiency utilities
In use, I found that having such a large screen was ideal for working with massive spreadsheets and, when having a full-sized double-page spread in DTP, there was still some space alongside for an email client or similar.
As can be appreciated the large amount of desk space that it occupies may be more some people can spare even though, as it weighs less than 5kg, it is relatively easy to move it around. If, however, one looks at it as a screen that can also be used for entertainment and not just as a PC monitor it might be easier to find the necessary space.
Being a "value" product, inessentials have been stripped out with AOC concentrating on what will be important to the majority of users. Furthermore, it is power efficient and only consumes about 40W when running and less than 0.5W on standby. At a price of £179.59 on Amazon it is good value for a very large monitor that will meet the majority of needs today as well as providing a reasonable degree of future proofing.