HP Envy Notebook X360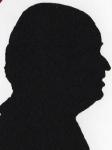 This is both a notebook and a tablet. It has touch screen ability as well as the latest HP touchpad technology. So is there anything in this unit that is not to like, well it is Windows 8.1 and there are cheaper units out there but nothing really.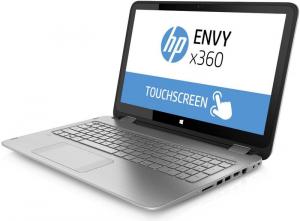 click image to enlarge
The HP Envy Notebook X360 measures 38x25x2.3cm and weights 2.4kg.
There is nothing on the back as the screen goes through 180 degrees.
The right side has an SD card socket, two USB ports, HDMI port, Ethernet socket, DC input point and a Kensington lock port. The front goes down to only .7cm thick so has nothing, the left side has a +/- rocker for volume, beside this is a 3.5mm headphone socket and another USB port, finally an on/off flush button.
So the only missing things are a VGA port and DVD drive, both are normally not a great problem with most panels having HDMI now and most data/programs can either be installed over the Internet or by USB stick.
The viewable screen is 34.5x19.5cm which is 15.6 inches imperial, this is only 1366x768 I would have expected it to be 1920x1080 (full HD) but it's not, so that might be a problem for some. However in tablet mode 768x1366 may overcome this.
In normal notebook mode there is a 5cm strip clear behind the keyboard, 1.5cm clear either side and 9cm in front of the keyboard. The 14x6.5cm trackpad is placed 8cm from the left and 15.5cm from the right. The keyboard has 101 keys with the alpha and numeric keys being full size.
It comes with 8GB of RAM, has a 1TB hard drive and an Intel i5 processor running at 2.4GHz, it is running Windows 8.1 64bit with full pen and touch capabilities.
Boot up takes 14seconds and shutdown around 5seconds. I rarely got beyond four hours per battery charge in normal use even with 'power saver' mode.
Even in notebook mode I found myself using touch to do almost everything apart from typing which of course is far easier on the keyboard rather than the available on screen offering. Certainly the lack of a mouse is not a problem for me and just a single press held producing the equivalent of a right mouse click on screen.
The trackpad also works well for those less happy with touch.
The one point I struggled with was the weight when used as a tablet yes the screen is a lot larger than even the larger Android offerings at 15.6 inches verses say 10inches with an Android unit but the weight of this unit means unless you are regular at your gym prolonged use without support can be hard work. It does have a tent mode like an inverted 'V'.
Perhaps it is ideal for someone who spends part of their time out and about but most at a desk.
The HP Envy Touch Screen X360 has several models with varying processors and SSD or Hard Disc combinations so do work out what suits you. The idea is the same notebook and tablet but processing speed and capacity change. The below with 1TB HD is £599.
http://www.very.co.uk/hp-envy-360-15-u203na-intelreg-coretrade-i5-processor-8gb-ram-1tb-hard-drive-wi-fi-156-inch-touchscreen-2-in-1-laptop-silver/1458180804.prd