Archos 50 Helium 4G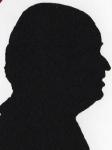 Archos are a company that has made Tablets but a quick rack of my brain cannot remember any phones from them in the past. While this is a phone it is of course also a PDA and as it runs Android also a Tablet so a three in one device.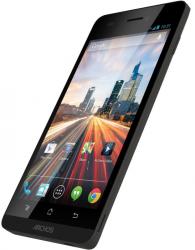 click image to enlarge
A Quad Core Processor with 4G capability, a 5inch screen, 8MP rear camera and 8GB of memory are just the main features. The screen resolution is 1280x720 so far nearer that of a PC than a lot of phones and web pages are very readable.
It is 14.5x7x.7cm and the viewable screen is 11x6.2cm which gives the notional diagonal imperial measurement of 5inches mentioned above. It just about fits in the palm of an adult hand but the screen is sadly very reflective and when blanked can be used as a mirror in a room outside you really have to shade it to read whatever is on it.
The units speaker is a line along the back towards the base.
The top has a 3.5mm socket for earbuds, the right side has power on/off button, the base micro USB for charging and the left side the volume up/down rocker button. On the back is the 8MP camera which has a LED flash beside it. There is of course a front facing camera for things like SKYPE and this is 2MP.
There is a point near the base of the right side where you can insert a finger nail to start prising the back away from the screen to reveal the internal solid battery that is 2000mAh, this needs to be removed to insert a micro SD card and micro SIM.
Boot up is close to 30 seconds and shutdown is 5 seconds, it runs Android 4.3.
In a normally lighted room the unit is quite readable mainly because of the backgrounds provided.
The 4G capability can be a selling point providing you spend time in 4G areas.
The Quad Core processor runs at 1.2GHz.
For those that want to view media content from their phone on a DLNA TV it works. This unit can replay 1080P video.
Most phones only support up to 32GB of micro USB storage this is one of the few that support up to 64GB.
In the box are a set of earbuds, a micro USB to USB lead, a 13amp plug with USB face to enable charging from any power socket and a Quick Start Guide with the first 18 pages in English. However you may find a magnifying glass a useful accessory as the booklet is 8x6cm with over twenty lines of text per page.
If your hand is large enough and you stay out of strong sunlight then this could be a reasonably priced introduction to 4G.
Pitched just under £200 it could temp some as it looks the part but there are cheaper – albeit less stylish – 4G phones about.
http://www.archos.com/gb/products/smartphones/helium/archos_50helium/index.html