HannsG Touch Panel HT231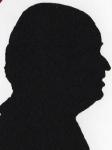 So you have a Windows 8 notebook or PC but you are interested in Touch, Windows 8 was certainly designed for Touch and with the right Panel maybe this HannsG unit and a USB cable you can turn your notebook or PC into a Touch unit.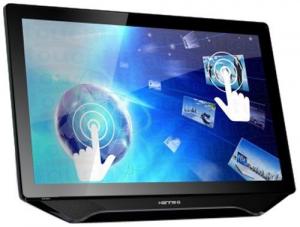 click image to enlarge
The HannsG HT231 Touch Panel measures 57.5x41x2.5cm, this figure is total size as the pull out support is built into the back of the unit so no stand to screw on.
The viewable screen is 51x29.5cm which gives the notional diagonal imperial measurement of 23inches.
My unit came without a USB lead but any USB lead such as one for a printer will work fine. Just plug the near square end into the panel and the normal USB end into your PC after a few seconds of thinking time the Windows 8 Notebook or PC is configured and the screen becomes touch enabled in the case of a notebook that is the panels screen and not the notebooks screen. You should also have the ability to type using on screen keyboard should you wish. So your ordinary PC with Windows 8 will now be able to be used as the operating it uses was designed using Touch and those icons work to open as you would on your SmartPhone or Android Tablet.
Unlike a lot of panels that have the connections under a lip at the back which normally means the stand in some way makes fitting or removing a lead difficult this unit has everything on the side of the protrusion. From top to bottom the connections are DC power in, headphones out, audio in (required for VGA), D-Sub (VGA), Digital in, HDMI in and finally USB connection to enable Touch.
The built in stand can be at various positions that enable the screen to be near flat to close to vertical, there is no side to side movement but the unit is light so easy to move side to side if required.
Unlike early Touch units this is little thicker than a standard panel and can should you wish be connected as such to an earlier Windows system via VGA, Digital or D-Sub.
The speakers are part of the stand and as such are slightly larger and therefore give a better sound than a lot of very thin units. The visible grills are either end of the base of the face and only 26cm separates them.
Touch is something that stated with what was called '2 point' this unit has '10 point' so mere selection of an icon is only part of what you gain.
On screen controls are towards the base of the right side and the five buttons work correctly but normally these will not be required as the 'Auto' adjustment works correctly.
I found there to be a lot of extra contrast and brightness should you need it.
This was a decent 23inch panel and the large premium for touch has now diminished considerably so this panel should certainly be considered. Anyone with Windows 8 can start to see what Microsoft's engineers were getting at as it operates more like your SmartPhone or Tablet with Touch. Little extras are nice like the stand being built in so picking it up and moving it is just a matter of disconnecting the cables, I note there is a Kensington Lock connection where this might be an unwanted feature.
The HannsG HT231 is available from the first link below for £174.94 with free delivery.
http://www.amazon.co.uk/gp/product/B00FMB15TC?ie=UTF8&tag=gadge0a-21&linkCode=as2&camp=1634