PNY Wireless Media Reader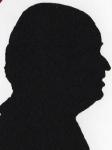 A small device designed to transfer files without the aid of wires in fact it is a mini direct Wi-Fi network to work between itself and a PC or a MAC or an iOS device or an Android device, it also has some subsidiary uses.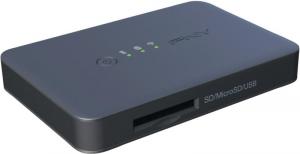 click image to enlarge
It is 9.5x6.5x1.3cm and weights 84grams. Most of this weight is its internal solid battery that means you need no other leads for file transfer.
There is a Quick Start Guide a good quality sheet with a single side in English together with another side that is a diagram of the unit and what does what.
As with a number of recently reviewed items it sets up its own network which will initially disable – without losing details – your normal network and then when you have done your transfer and switched the unit off your own network will be seamlessly reconnected.
The front has a standard SD Card slot, you are provided with a micro SC to SD adapter card so this slot can also take micro SD Cards. Both sides are clear of any connections, as is the base.
The top has three LED's clearly marked and explained in the diagrams it also has an on/off button.
This leaves the back that has a micro USB socket and a full sized USB socket. There is also a reset hole where you insert a sharp thin object like a straightened paper clip should things not work, in my tests I never needed this.
The package also contains a 40cm micro USB to USB lead. The micro end fits into the unit and the USB end into a PC or wall socket to recharge the internal battery when required.
If you connect the USB end into the unit then the micro end can fit into some mobile devices to transfer data. The device can also be used as a charger for your mobile phone or Android device in this same configuration.
While what this device does is not earth shattering it can save time as otherwise you may have to remove cards from devices to complete similar tasks.
A free App is downloaded to link your iOS or Android device to the unit. The unit can also be used with your PC or MAC as it is seen as another Network the required passcode is in the Quick Start Guide.
This is something that unit you use it you think you do not need as other methods to do what it does are available. Once you use it you realise that this is a GADGET and gadgets are what make your life easier.
One example is the vacuum cleaner a dustpan and brush can do the same work. Another is a dishwasher, a bowl of water works in the same way. I could go one but try it and while it may not same hours or even minutes it does save time.
The PNY Wireless Media Reader is available from the link below for £34.63 including delivery.
http://www.amazon.co.uk/gp/product/B00KQCUKPM?ie=UTF8&tag=gadge0a-21&linkCode=as2&camp=1634