Ben Q 22inch Flat Panel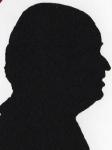 Looking at this panel alongside others of a like size makes it look tiny. It isn't but the borders around the screen are so despite it being a 22inch panel that offers full 1920x1080 display it still looks a lot smaller and takes up less space.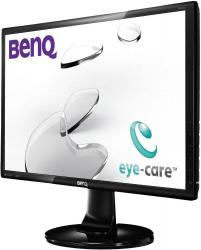 click image to enlarge
The BenQ GW2265M measures 50x29x2cm, the viewable screen is 48x26.5cm which gives the notional imperial measurement of 21.5 inches. The weight including the stand is tad under 3.25kilos. the stand is a clip on oval 21x18cm.
While the screen surround is shiny black the screen itself is less reflective so gives a good clear image even in strong daylight but of course try to avoid direct sunlight onto the screen.
The back of the right edge – towards the bottom - has five touch buttons and a small LED below these that lights when power is going to the screen.
Either side of the arm from the stand are the connections. One side has the three pin power input (kettle type) and the other side has a 3.5mm audio input, HDMI, Digital and D-Sub (VGA). A VGA lead is provided.
Whichever you connect is auto detected and the image was clear and sharp. The audio lead is not required for HDMI but however you connect the speakers give a perfectly adequate output.
The oval base has six small round rubber feet to protect whatever you sit it on from the plastic above.
There are around 17 degrees of back movement for the screen and a tad less than 5 degrees of forward movement. No side to side movement is available but as the whole unit is so light it is easy to twist to view at an angle.
I found there was good viewing from well to the sides, above, and, below while the straight on viewing was excellent.
I only used the controls to see what they did as the auto image 1920x1080 was perfect even when I switched inputs.
I found around 80% volume was correct for a normal room so there is plenty to spare even with the volume on the host device being set less than maximum. There are seven pre-set picture modes and another one should you have special requirements. For normal varied use I found the default 'Standard' fine. There are many other adjustments from the menu system including pixel adjustment.
It features 3000:1 native contrast with black blacks for a true image. It was also truly flicker free.
This is a nice easy to use – and move – small in overall size 22inch panel that has good colour balance and a mode for every use.
The Ben Q GW2265 is available from the link below for £101.99 with free delivery.
http://www.amazon.co.uk/gp/product/B00DZFRQDG?ie=UTF8&tag=gadge0a-21&linkCode=as2&camp=1634