Asus Transformer Pad T100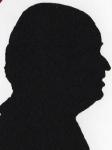 Review controls
This can be lighter than an Android Tablet, however it runs Windows 8.1. The transformer part is a near full size detachable keyboard so all your Windows programs should run and it comes with Microsoft Office installed.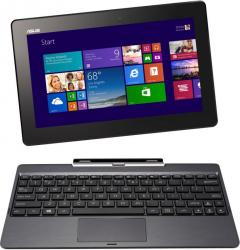 click image to enlarge
The Asus Transformer Pad T100 measures 26x18x1cm at the front, this increases by .5cm at the rear. It weights 1106grams with keyboard and 516grams without it.
While the keyboard supplied is 'near full size' the individual keys are 1.4x1.1cm each with .1cm between keys and you may struggle to be a fast typist on it. It has 84keys with the top row of keys being only 1.2x.8cm. There is a 7.6x4.1cm trackpad mounted 8.4cm from the left and 10cm from the right.
The viewable screen is 22.5x12.5cm and the screen resolution is 1368x768, it is a 10inch screen. On the screen resolution screen is a tick box to decide if you want auto screen rotation or not.
This is a touch PC with five point touch support. It comes with 2GB of RAM, Windows 8.1 pre-installed and it 32bit. It has a 32GB SSD drive with around 11GB of the 28.2GB used. The processor is an Intel Atom 1.33GHz.
All the connections are on the surrounds of the screen which works fine without the supplied keyboard when required using the onscreen keyboard for input. The one item on the detachable keyboard is a full size USB3 port. If you used this on a Desktop then you would probably run a USB hub from this port to give more options.
The first thing that needs getting used to is that the screen will rotate when moved from a landscape position. For my descriptions I will assume you are holding it in landscape configuration. In the centre of the top of the screen surround is a 1.2MP web cam with light sensor and indicator light either side of it. There are a pair of tiny strip speakers either side of the back with a micro SD card slot on the right side, also on this edge are Micro USB and micro HDMI ports. The micro USB port should be used to charge the unit. If you charge from a PC or multi charge port it takes around five hours for a complete recharge from empty. Charging using the lead and dedicated USB to 13amp plug (supplied) is quicker. Finally on the left is a 3.5mm socket for headphones.
The power button is on the top near the left edge and needs to be held down for close to three seconds to turn on. A shorter press is required to wake from sleep mode. There is a rocker volume button on the right side together with what is called a 'Windows' button, this takes you to the start screen or if on the start screen to the last App you opened.
The top edge has the dock port with keyboard hinge anchors either side of it.
I got ten hours of moderate use with quite a lot of Wi-Fi use from a charge.
Boot up takes ten seconds and shutdown five seconds.
There are a range of Acer Apps installed as well Microsoft Office 2013 (not the Office 365 that needs renewing after a year) this is One Note, Presentations, Excel and Word.
I was a little concerned that the lack of memory and small processor might be a problem but I was able to type and have Excel open as well as Word.
The Wi-Fi was excellent and worked all round my home where some other products fall out at the corners as the walls are solid.
With a lot of products now downloads the lack of an optical drive will probably not be a problem. If you do need to install from CD or DVD you could attach a USB CD ROM or copy files to a USB stick from another PC.
If you travel a lot then this is a very light unit. For a second PC it is ideal and remember most Windows programs should run without problem.
I loved the touch and this is exactly what Windows 8.1 needs with or without the supplied keyboard.
The Asus Transformer Book T100 is available from the link below for £329.
http://www.currys.co.uk/gbuk/computing/ipad-tablets-and-ereaders/tablets/asus-transformer-book-t100-touchscreen-2-in-1-21765509-pdt.html
http://www.asus.com/uk/Notebooks_Ultrabooks/ASUS_Transformer_Book_T100/