Rugged Android Unit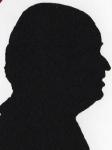 I always hesitate to be hard on review units, however the RangerX tablet is one that is designed to take more vigorous day to day use than standard products not survive. Here an Android device designed for the harder life.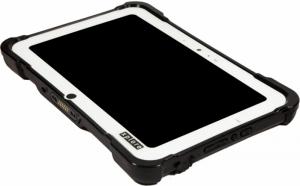 click image to enlarge
28x19x3cm are the basic dimensions with the extra rubber padding at the corners and the fixings that allow it to work much like a glove leaving one hand free to use the attached stylus to work with whatever specialist software you are using. With protective sleeve and stylus attached it weights 1134grams.
If this was dropped from a reasonable distance there is a good chance it would survive providing that the unit did not land on a protrusion screen side down, anything else within reason it should survive.
The viewable screen is 22.5x12.5 which gives the notional diagonal imperial measurement of 10.1 inches and it has 1366x768 pixels.
While it can be used as a standard touch Android unit there are extra controls off screen which probably allow for the user to be wearing gloves that would mean normal touch will not work. So a stylus is attached to a flexible lead of at least 60cm. There is also a rubberised button on the centre part of the screen surround when used in Landscape mode. The top area above the screen has an HD (1.2MP) Camera and twin microphones as well as a light sensor. The right edge has an LED showing battery state.
The rear has a 5MP camera and LED flash. A NFC reader, a speaker and rubber bung over the DC charge input.
The right side has rubberised buttons for power on/off, screen location lock, volume up and down and entry point for the DC input once the back cover of it is flipped.
The rest of the inputs are on the left side behind two rubberised doors 3.5mm headset jack, Micro HDMI out, Micro SIM, Micro USB, battery on/off slider, Micro SD socket and USB2 slot all packaged behind door one. Door two hides the Common Access Card Reader.
Some of the Apps supplied are a little different to most Android units and the Appstore is from Amazon rather than Android.
The stated battery life is 'up to ten hours' between charges and I managed to use it for a full day of normal use. But for those who work even longer it can be charged by USB when in use.
It boots from off in a tad over 20seconds. It currently comes with Android 4.04 but I am told Jelly Bean 4.2.2 will be available soon.
This is big on communications and it is used by a number of large out and about companies. Not only does it support Wi-Fi and Bluetooth but also Verizon LTE 4G and discrete GPS.
I found some bright sunlight – not easy at this time of year – and the screen was still readable even when used with the sun just behind.
I did not use the CAC (Common Access Card Reader) which is designed for the military and other security users. The units processor is a Dual Core Cortex A9 running at up to 1.5GHz. It has 32GB of internal storage (27GB available) before you insert any Micro SD storage.
This unit can also be provided with extra rugged screen protection should it be required.
The Xplore Technologies Ranger X Tablet is available from the link below.