WD My Cloud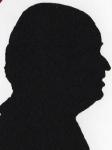 Review controls
I saw this at a recent event which was itself 'In The Cloud' as 27 floors up on a misty damp day is certainly in the clouds. However while this storage and backup package lives in your home or office, not as 'The Cloud' often means far away.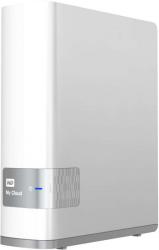 click image to enlarge
It is 17x5x17cm and stick the power adapter and Ethernet cable in the rear and you add another 3cm to the depth.
To get started on your PC or MAC just follow the link given in the well illustrated Quick Start Guide.
If you have plugged in your power adapter and supplied Ethernet cable then by the time you have filled in the few required answers the LED on the front of the unit will have turned from purple to blue and you are ready to move data.
Two Terabytes of data is a lot – even if you did not like me start computing with a 10MB hard disc – and while I transferred a lot of pictures, videos and audio it barely registers at 12GB. Of course data transfer is quick as it uses Ethernet.
The first surprise is that it makes its own entry under 'Network' so if you already have a Network this will be something different.
It makes four 'shares', one under the name you have given, another called Public, SmartWare and finally TimeMachineBackup.
As with most Networks they tend to be online 24-7 but if you get a power cut or for some other reason either power or the router you are connected to becomes disconnected then the process to get from a purple LED when you first apply power to blue will take at least 90 seconds and often up to three minutes. If the LED turns yellow then the Ethernet lead is probably disconnected.
If you have real 'Cloud Storage' such as that offered by Microsoft Sky Drive, Google Drive and Dropbox these can be read seamlessly so making your Desktop My Cloud box even bigger. I asked the question about other such drives and was told only these three at the moment.
Actually hitting properties to see exactly how much space you have used is not that easy as you cannot quickly mark the items – it is possible – but there is a far easier way and that is a little Dashboard that tells you that information and far more.
However this box also has an external USB3 port which means you can connect another drive to it to give even more storage. In fact if you use a powered USB hub then you can connect several extra drives.
Files can of course be accessed from anywhere – providing you leave your WD MY Cloud connected – to your router and not just from a PC or MAC but also from IOS and Google devices using Wi-Fi and the Internet, just remember to keep your WD My Cloud connected via Ethernet. All you need is your Login details that you gave at the initial setup.
You can of course setup several users and allow varying degrees of access. My only little niggle is that the name 'The Cloud' suggests the storage is anywhere but on your desktop once you are over that fine. But as it links to three sources of true cloud storage I suppose it's OK.
The WD My Cloud is currently available in 2TB or a 3TB version, the latter is available for £154 with free delivery. The former on the second link for £129.99.
http://store.westerndigital.com/store/wdeu/en_GB/DisplayAccesoryProductDetailsPage/productID.288053800?psrid=39276987
http://www.currys.co.uk/gbuk/computing-accessories/data-storage/network-hard-drives/wd-my-cloud-external-hard-drive-2-tb-white-21736641-pdt.html