Freecom Drive Duplicator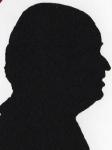 Duplicating a drive is something that can normally only be done by specialist software and certainly not from within Windows. Here a piece of hardware that can duplicate two bare drives or a single bare drive and one connected via eSATA or USB2.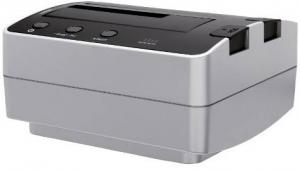 click image to enlarge
It is 14x13x7cm with grey sides and base and black top. The rear has the DC input, USB and eSATA sockets. The other three sides and the base are clear.
The top has two flip down lids where you insert either one or two drives and in front of those three touch buttons, power, duplicate and start. All the buttons have LEDs in them and the colour varies according to what is being done.
For a straightforward disk duplication using both ports of the duplicator, insert the source disk in the slot marked 'source' and the target drive in the slot market 'target'. The only thing you must remember is that the target drive must be as large or larger than the source drive.
Press the duplicate button for four seconds until it turns blue and that's it now just wait until the task completes. You are warned that 'large' capacity drive copy may take several hours.
The unit I received had already been through several hands and it had nothing apart from the power leads and the drive. I assume that when purchased new you also get the 'A' to 'B' USB cable which is similar to the that comes with a printer and possibly the eSATA cable.
The manual was subsequently sent to me in PDF format. I have described what it says in the first 11 or its 22 pages with the exception of the basic requirements when connecting to a PC or MAC.
These are Windows XP or higher, 256MB or 512MB or RAM and an Internet connection to register the unit. For MAC it states Power PC G5 or Intel MAC and 256MB of RAM. So in both cases very little is needed.
The last 11 pages of the manual go into details on partitioning your drive and file formats and their various capacities.
There are lots of diagrams and it should be foolproof but remember you are working with bare drives so you should earth yourself before you pick them up and after duplication you must switch off the unit before you remove the drive.
For some the usefulness of this may be simply to copy files from within Windows or MAC and if connected by USB the drive is seen as another drive letter and so files can be copied to or from the unit using the normal controls.
If for instance you get a new PC or notebook you can copy your files to the new unit before you format the old drive if you intend selling it on. In this case you might like to invest in one of the 'drive scrubbing' software tools to ensure your own data is fully unrecoverable, very important if you have credit card details etc on the drive.
So this unit can do a straightforward drive copy using both ports and this can be with two 2.5inch drives, two 3.5inch drives or one of each. This is ideal if you have had a desktop PC (3.5inch drive) and are moving to a notebook (2.5inch drive) and especially if you would affect the warranty of your notebook if you removed the drive the action can be completed using USB or eSATA if you have it on your unit.
The USB connection speed is USB2 but it will work if your old unit has 1.1 but of course at the slower speed.
The Freecom Drive Duplicator is available from the link below for £50.18 with free delivery.
http://www.amazon.co.uk/gp/product/B0060H7FFA?ie=UTF8&tag=gadge0a-21&linkCode=as2&camp=1634