Philips 240S4LPMS/00 Flat Panel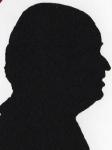 My first flat panel was 1600x1200 and had a 4:3 display. When I moved to 1920x1080 and 16:9 – where I have been since it initially looked strange – now Philips have a 16:10 and at 1920x1080 this is weird but install the software and view at 1920x1200 its good.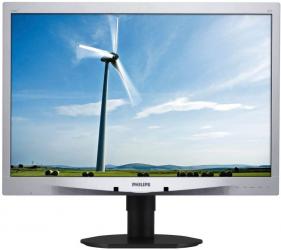 click image to enlarge
In fact to get the display just insert the CD-ROM and then right click on your Desktop and then Screen Resolution and identify and accept the 1920x1200 offered.
I loved my initial 1600x1200 screen and always missed the added screen depth especially when viewing web pages, you might say it's not much different but it's close to an extra 13% and that shows a lot more on most web sites.
The panel is 55x39x2cm, the last figure is at the edges a central rectangle around the connection arm is another 5cm thick. The connection arm attaches to the stand and it raises the screen between 5 and 16cm above the desk. The stand is rectangular 24cm across and 22cm deep, this gives stability whatever the height of the screen above the desk.
The viewable screen is 52x32.5cm giving the notional imperial diagonal measurement of 24inches and the maximum resolution is 1920x1200.
At the bottom right of the screen surround are five touch buttons that control the displays look and feel. However apart from my tests I only ever used the farthest right one the on/off. In the centre is a white LED in the shape a slightly curled up mouth this does not distract even when looking at the panel in poor light.
There has been a lot of talk about LCD or LED. It's all about the clarity and brightness of the backlight. As I understand it all panels are still LCD but the LED parts give better sharper light and even turn on/off quicker so you appear to have more flexibility in colour display on the unit. Almost all units being produced now are labelled LED because of this and if you stood one side by side with an older LCD unit you probably would see the difference.
I recently saw a number of new units in a range of strange combinations not with 16:9 but 21:9 and even larger which or course are designed to show movies, they look truly strange. I mention this as the 16:10 display here looks 'pulled' if you use it in 1920x1080 mode.
I tend to work on two PC's some of the time using one panel connected by a KVM switch and during the review of this panel I left one display at 1920x1080 for reference and even after a while it still looks strange. This was designed as a 16:10 unit and anyone looking at it in 1920x1200 mode would not see anything unusual. The plus is more depth which viewing web pages is a big plus and it even helps with Word Processing or Spread sheets.
As the arm at the back is telescopic the range of placement is good there is also a lot of back and forward tilt – far more than on anything I have looked at recently – it also supports Pivot so you can use it in 90 degree moce meaning the resolution becomes 1200x1920 which means you can see even more when viewing long strips of data.
I also connected this to a couple of older notebooks which cannot show as much as 1920x1080 and the default notebook displays on the panel looked fine, just a bit of a waste of the panels ability.
There is one minus to this unit and that is that is can only be connected by D-Sub (VGA) or Digital. So no HDMI or USB connections are available.
Looking at the rear under the overhang on the left are VGA and Digital connections as well as a 3.5mm socket to use the units speakers. On the right side beyond the telescopic arm is the mains (kettle type) input.
The Philips 240SLPM is available from the link below for £259 with free delivery
http://www.amazon.co.uk/gp/product/B00C3AB0NG?ie=UTF8&tag=gadge0a-21&linkCode=as2&camp=1634