AOC 27inch M2752P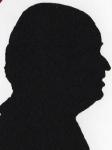 Another excellent offering in the larger panel field from AOC this can connect via VGA, DGI, HDMI or Display Port the last more commonly found on MAC computers. This is an offering from their professional range.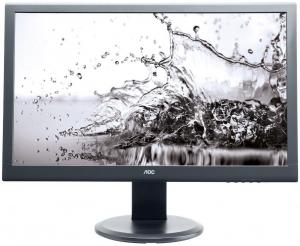 click image to enlarge
The screen of this AOC 27inch M2752P measures 64x39x2cm, with the visible portion being 59.5x33cm this gives the notional diagonal measurement of 27inches. The stand is round at 25cm and it raises the screen by a minimum of 6cm from the desk. The screen resolution is 1920x1080.
Under the right front bottom edge are five buttons which in normal use are invisible, these allow you to make changes outside of Windows. Inside Windows the supplied AOC CD gives some excellent software to do the same.
When power is on to the unit there is an LED beyond the five buttons that glows blue when working and red when power is on but doing nothing because whatever setting you have is not being properly interpreted by the unit.
At the back are a line of connections, to the right – looking from the front – is the mains input, to the left from the centre working left Display Port, HDMI, DVI and VGA and beyond this an audio connection for when VGA is used.
While a large screen is very pleasant and great when watching DVDs it is perhaps overkill for a 1920x1080 screen.
The CD provides additional software that can divide the screen into up to four screens which could be useful for things like security use.
As stated this is described as a professional unit and as such it would have been nice if the display could show more than 1920x1080.
Among the things not all other units give is height adjustment – up to 11cm - via the connection arm, tilt both back and forward and the unit also swivels side to side on the base.
Another feature is the pivot mode allowing the screen to displayed portrait rather than landscape and anyone with poor sight will love the ability to show an A4 screen in greatly increased size to enable easy working for them.
While this unit does not allow USB connection of the display it does come complete with a USB Hub and lead to allow those with PCs remote to their keyboard to still attach other items without ferreting under their desk for example.
Power consumption is reasonable at 44watts on, .4watts standby and .3watts off but power lead still connected.
Colours were excellent with a lot of both brightness and contrast available beyond the default 'Auto' settings of the unit.
The inbuilt speaks gave perfectly adequate sound for normal working and even viewing of the odd DVD or three.
Build quality is fine as was the viewing angle from sides and above and below, you also get a three year warranty.
Doing my searches found the AOC M2752P at £230.86 with free delivery.
http://www.amazon.co.uk/gp/product/B008L5OF3Y?ie=UTF8&tag=gadge0a-21&linkCode=as2&camp=1634
http://www.aoc-europe.com/no_cache/en/monitors.html?useCacheHash=1&showUid=170