Acer Aspire V3 571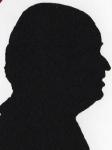 Review controls
Due to a rearrangement in the way Acer contact their press relations it has meant an extended period with no new products being available for review. Here the first to emerge an Intel i5 2450m bearing the Acer Aspire V3 571 name.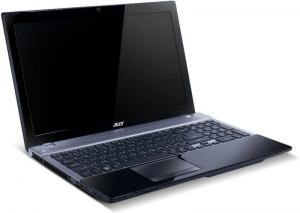 click image to enlarge
It is 37x25x3.5cm. The viewable screen is 35x19.5giving a 15.6inch diagonal imperial measurement and the screen display is 1366x768. The weight of this full featured unit is just under 2.6kilos. It is –sad to say– shiny black.
The left side has DC input, Ethernet port, VGA out, HDMI out, USB3 port and external headphone and microphone connections. The front edge has SD card port and a line of four pin hole LED's. The right side has two USB2 ports a DVD multi drive and a Kensington Lock connection. The rear is clear as the screen moves over it.
Open the lid and the immediate keyboard surround is silver grey with less shiny black for the area at the front including the trackpad. You get a full size 105 key keyboard with the speakers behind it and the on/off button back left. The trackpad is 8.5cm from the left and 20cm from the right. The trackpad is 10.5x6cm including buttons.
Normally most notebooks come with a McAfee Anti Virus trial and Norton backup trial. The latter was on it but the former was missing, I am assuming a previous reviewer had placed AVG Free on it to give protection. There were also some other programs that I do not think would have put there by Acer so I will only state what the Acer website says is there.
Windows Home Premium 64bit. Microsoft Office Starter (Word and Excel with adverts). Bing Bar and Windows Live Essentials. I am sure there are some other Acer apps but I was unable to get a list so I will mention none.
The core i5 Intel processor is dual core and has a base speed of 2.5GHz which can with Turbo boost perform at up to 3.1GHz. The hard disc is stated at 500GB but the 'C' Drive reads 448GB, this to me seems a little small given the size of most software today.
You of course have Gigabit Ethernet, the Wi-Fi is a, g and n. There is also Bluetooth V4 and it comes with 6GB RAM.
The Windows Experience score is 5.6 made up of Processor 7.0, Graphics 5.6, Gaming Graphics 6.3, Memory 7.3 and Hard Disc 5.9. For those who do not know any of those items are a number between 1 and 7.9.
The battery life is stated at 4.5hours and here I struggled with what they claim. The best I got with a range of uses was just three hours but I could have possibly got more in light use, I do not have an algorithm as to how they calculate things. One hour of heavy use compiling video took 35% of battery. One hour of iPlayer took 35%. One hour of Internet browsing also took 35%. The only other use was simple desktop word processing which took 25%.
It's a nice unit – pity about the shiny black – it seems very responsive and the video compression ran very swiftly. However the battery use seemed very heavy to me when the specifications say 4.5 hours that's what I expect. A full recharge (while off) took 90minutes.
As with most notebooks the screen is reflective which can mean it's difficult to read with a strong light behind you.
While testing the recently reviewed AOC unit I connected this and used it as both the main and an extended display without problems.
I found the Acer Aspire V3-571 at a best price of £473.74.
http://www.simplyacer.com/Acer_Aspire_V3-571_1194052.html