Untethered Mice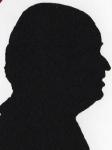 Here I am looking at a Bluetooth mouse from a company that makes PC's, Cameras, Phones and Audio Systems Sony. Second a Wireless offering that looks like a UFO and this one from Brando in Hong Kong is Wireless.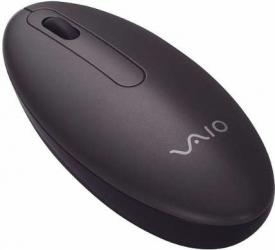 click image to enlarge
Sony Laser Mouse VGP-BMS20
This oval shaped offering is 11x5.5x1cm and mine was a purple colour that in dull light can look nearer to dark blue.
It runs on two 'AA' batteries (supplied) which are stated to last around three months. It is branded with the Vaio name.
Looking at the Sony site I see it is available ten colours with the most normal Blue, Black and White. Orange, Pink, Light Blue, Two shades of Green, another shade of Pink and Red complete the range to suit all comers. According to the site they are made to match the 'C' series of notebooks.
800-dpi is quite a high specification and you should be able to get quite close control when it is required. The box contains no less than nine different operating instruction booklets one of which had a side or two in English. Surely the world has gone crazy – not to mention demolishing a few trees – when you need all this for a mouse.
In use I found it quite light and easily fitted a male adult hand, some may call it small. The two buttons are not defined just the ends either side of the scroll wheel. It was responsive to touch and buttons could be within 4cm of the end to get the desired result. The scroll wheel was also responsive and easy to use without problem.
It felt most comfortable with the base in the centre of my palm and my fingertips just overlapping the forward edge.
I found the Sony VGP-BMS20 at a best price of £39.98 with free delivery from the first link below.
http://www.amazon.co.uk/gp/product/B003N4EMJK?ie=UTF8&tag=gadge0a-21&linkCode=as2&camp=1634
http://www.sony.co.uk/product/mouses---keyboards/vgp-bms20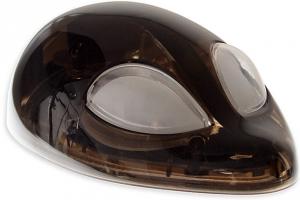 click image to enlarge
Wireless UFO Mouse from Brando
This is altogether larger at 12x8x4.5cm and filled a male hand mainly because of the extra height – or hump – of the rodent. It comes in black and works on the 2.4GHz wireless band. It weights around 120grams with batteries inserted.
It has two buttons that light up and are set back around two centimetres from the front of the mouse. It runs on two 'AA' batteries and also has a tiny USB receiver 2.5x1.4x.5cm which has only 1cm poking out from the USB port.
To me this is more of a fun thing with the eyes alight rather than a precision tool but something a young person may like.
The Wireless UFO Mouse is available from the link below for $18 (US) with $3 (US) P&P whatever the size of your order.