Future Proof Modem Router From Netgear

When buying any computer kit one wants to plan ahead to give oneself a degree of future-proofing without going to the too expensive extreme. The Netgear N600 wireless dual-band gigabit ADSL2+ modem router model DGND3700 will provide more than adequate performance today while, at the same time, has enough facilities and performance to meet needs for the next year or two which is, after all, as far as it is reasonable to plan -- even if one switches from ADSL to cable or fibre.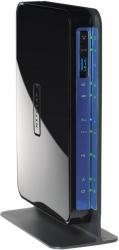 click image to enlarge
Before anyone gets the wrong idea, this ADSL modem router does not directly support cable or fibre; it has a WAN (wide area network) gigabit Ethernet port to connect to a cable or fibre modem. Thus, a user can make the transition without having to disturb any of their LAN connections or having to make any additional purchases.
The DGND3700 is a vertically mounted unit which is roughly 23 x 16 x 7.5cm overall including the stand even though the body of the unit itself is only 3.5cm wide. It is black in colour with connections to the rear and status LEDs plus a second USB connector and the PPS and Wireless on/off buttons on the front. Although one can see the LEDs themselves, the inscriptions are not very easy to see. In practice, however, after a while this did not seem very important.
The installation guide is simple and straightforward in the way it covers the basic set-up for Internet access and then carries on with wireless security which it says 'you should set up…'. Consequently, it should not take more than a few minutes to get it working initially. However, it takes quite a bit longer to get to grips with the more advanced facilities of the 3700 even though the context-sensitive help screens in the router manager are very useful.
Within the basic performance of the router, having Gigabit Ethernet in addition to 10/100 ensures that it will not be a bottleneck on wired connectivity. Similarly, the 2.4/5.0GHz dual band wireless IEEE 802.11 a/b/g/n supporting a maximum speed of 300Mbps will even be enough for gamers and high speed streaming. This is complemented by WPS (Wi-Fi Protected Setup) access, via either push-button or PIN number, to make it easy to add a local client as a guest.
Using 'readySHARE' the two USB ports can support a massive amount of local storage which can be accessed from locally attached machines, over the Web or as a media server. Automatic QoS rules can be set up priorities so that streamed video and games should be jitter-free.
As part of the parental control features there is also the ability for one, trusted, computer to have unrestricted access to the Internet and, on the subject of unrestricted access, there is a traffic meter which will be of importance to those who have tariffs with usage limits. In addition to being able to record time and traffic volume usage, it can be set up to warn when monthly limits are being approached.
As must be appreciated this has just touched on the features overall without going into the extent of the possible settings. While, this modem router will be over-specified for a great many users and may thus seem as an overkill, it is unlikely that it would not be able to meet virtually any requirement today and in the reasonable future. Consequently, as it is unlikely that the purchaser would need to replace the 3700 for quite a while many may feel that its price of about £120 on Amazon is worth paying.