Data Exchange or Cloning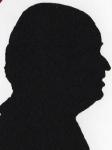 Review controls
The first device for all those who have important data on IDE drives, the second for those with more modern kit who simply want to copy – or clone – the data onto another drive. The first needs USB and second can work independently.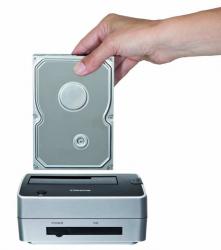 IDE and SATA
Ever needed to transfer data from one device to another, those who know can easily do so from one similar device to another in a PC however older IDE and PATA drives often no longer have a home so this device can help.
For SATA drives you just place them in the top of the unit, connect the power lead and the USB one and the PC you connect the other end of the USB lead to sees that drive just as it would any other USB device and it gets a drive letter. So you can now take files and folders from it and transfer them to the PC or even to another USB drive.
To connect an IDE drive requires two cables that anyone who has been around for a few years in computing will know an IDE cable and the four pin power cable. These can be purchased separately or from Freecom at the time of ordering while most may have the IDE cable lying around the four pin power cable is less likely to be so as it normally comes as a range of them. The power lead supplied is 12cm long and the IDE cable 30cm, both are quite long enough.
Both these fit into the front of the unit behind a rubber bung, the IDE cable provided does not have a blocked hole in two rows of twenty so it is technically possible to connect it the wrong way but the notch is in place to guide you.
Having done this and then connected other ends to the IDE drive then turn on the power to the unit and connect the USB cable as in the SATA example. DO NOT try to hot swap as this will only cause your PC to reboot. When you connect the power and USB when the drive is in place Windows will see it as a USB device.
The box is 12x10x5cm without cables connected. As a SATA drive comes out of the top you will need to add its size -3.5cm (the amount that fits inside) to the 5cm height. The power and USB leads add 3.5cm to the 10cm depth and if you have the IDE and power leads attached to the front this adds a minimum of 2cm to the depth, but it is probably easier to have the bare IDE laid in front on a cloth or possibly some newspaper or bubble wrap.
This is a tool that goes one step further than other such devices like for instance the one below that may do more but only for SATA drives. Available from the first link for £35.99 with free delivery.
http://www.amazon.com/gp/product/B002TXJIUE ?ie=UTF8&tag=gadge0a5-20&linkCode=as2&camp=1789
http://www.freecom.co.uk/Products/Hard-Drive-Docks/Hard-Drive-Dock-Pro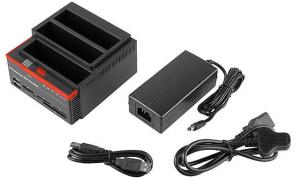 click image to enlarge
Multi Function HDD Docking
It is 14x13x6.5cm without leads inserted in the rear, add around 3cm for DC input and USB. The top is open and has three SATA bays.
The front bay is the master when in copy/duplicate mode. On the front of the unit there are two USB ports as well as card ports fpr Memory Stick, XD, SD, Compact Flash and Micro SD and indicator lights to show copying progress.
It can work with both 2.5 and 3.5inch SATA drives. While I know it works for PC it is also stated to work with MACs. It is stated to work with Windows 2000, XP, Vista and 7.
Technically it is possible to clone the contents of one drive to one or two other units at the same time and of course this device takes only a single USB port and as you are dealing with SATA drives and cards hot swapping is possible. Available from the link below for $55 (US) +$3 (US) p&p whatever your order size.
ttp://usb.brando.com/triple-sata-hdd-multi-function-dock_p1880c57d15.html