HANNS.G HL245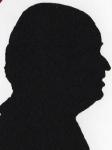 I know I have a weakness for reviewing flat panels and then buying them. So here I will try to avoid it, lack of funds makes it easier, however when you use a panel without problems for a couple of weeks then you become attached.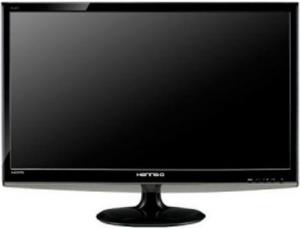 The HANNS G HL245 measures 56x33x5cm, the last figure the thickness is only half that at the edges. It sits on a 20cm circular stand that raises the panel by 5cm from your desk or whatever you sit it on. The screen surround is very dark grey but not shiny.
The viewable screen is 52x29.5cm giving the notional diagonal imperial measurement of 23.5 inches viewable.
Assembly is just a matter of a twist screw to connect the base to the panel arm. The connections are pointing down from the back and consist of the power lead on one side and the DVI and VGA connections on the other side.
It comes with a VGA lead, there is a small guide a CD with the manual in several languages and of course the power lead.
As you look at the face of the panel there are five buttons along the bottom of the screen towards the right edge. I found lots of spare brightness and contrast but the 'Auto' screen display I could not fault and always returned to it.
Should you prefer to fix this to a wall there are four screw holes in the back of the unit for any optional wall fitting kit.
Often people say I do not mention enough about the sound quality of an audio product or the colour quality of a display product like this, normally this is because of space restrictions but always be aware if something was not as it should be it would be mentioned and probably far more than that, so here as I have the space more details.
If you use this to show the same display as a notebook by default it will show that resolution but when it acts as a second monitor it is not restrained and can show 1920x1080 or as it is called full HD. This can be stunning when the source is a notebook.
The extra screen space really means any background really comes to life. The landscape set in Windows 7 has that extra wow when viewed larger. Of course most will be interested in video and movie quality or perhaps still images.
Still images look excellent and that extra size – providing they are not captured at a small size – scale up well full screen.
Movies are great and I watched rather more than was required using both the DVI and VGA settings. My other test was using movies from my gig visits; these were captured using a Flip which of course has the ability to display direct to a TV where they are stunning. However I used the compressed versions that are only 2/15 the original size and they looked good. Colour was as good as live as there was no pixcelization at all.
Not having a separate audio feed can be a problem meaning the notebook – if that is what you use – will need to be nearby. The other missing feature is of course an HDMI input – without an adapter – which means it could not be used to show output from devices that only have HDMI out. However those are as far as I can tell the two missing features.
Doing my Internet searches found the Hanns.G HL245 at a best price of £146.93.
http://www.amazon.co.uk/gp/product/B004G7XQMM?ie=UTF8&tag=gadge0a-21&linkCode=as2&camp=1634
http://www.hannsg.com/Global/Products/LCD%20Monitors/Common.aspx?categoryID=172