Acer's 2010 notebook range

Acer, which claims to hold the number one position in notebook sales in the UK, has announced its new TimelineX range based on the Intel Core series of processors, high quality displays and versatile connectivity. They will start coming onto the market within the next few weeks. The company is offering a number of different series of machines each of which targets a particular sector within the consumer and SMB marketplace.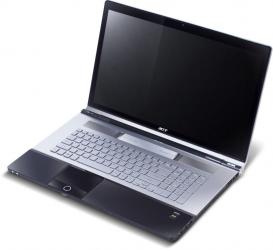 click image to enlarge
Extending from 11.6 to 18.4 inch models, these range from the mobile user needing maximum battery life through to advanced multimedia solutions offered a full HD capability. Although based on the previous generation of machines, Acer has taken a hard look at improving machine efficiency with the aim of increasing battery life from the previous 8 hours to 12 hours. This will support a busy day of work or play without the inconvenience of having to break off to recharge.
This has been achieved by selecting components and technology to save energy and, it is claimed, to be environmentally responsible. The new family of Intel Core processors optimises efficiency automatically by adapting available power to workload requirements such as when re-rendering a photo. The backlit LED display panels, combined with Intel Display Power Savings result in a 30% power saving without sacrificing image quality while the use of a new generation of hard disc drives offers a power saving of some 40% over previous models. In addition, a revised cooling system using low-energy fans minimises battery consumption.
At the top of the line, with prices starting at £1099.99 incl. VAT is the Acer Ethos series in both 18.4 and 15.6 inch versions. They are designed to be stylish and, at the same time, to incorporate the latest innovative technology. The displays support full HD (1920 x 1080) in 16:9 aspect ratio. Coupled with ATI Mobility Radeon TM HD 5000 supporting HDR texture compresson, Shader model 5.0 and Microsoft Direct X results in first class 3D visual effects and excellent gaming performance.
For sound, they incorporate third generation Dolby Home Theater technology. The 18.4 inch model is claimed to be the world's first laptop to incorporate multi-speaker True 5.1 surround sound through five integrated speakers.

click image to enlarge
Ethos machines are based on Intel Core i5 and i7 processors and can have up to 16GB of RAM. They incorporate wireless 802.11 b/g/n as well as Gigabit Ethernet with Bluetooth 2.1+ being offered as an option. They can have up to 16GB of RAM and there is a choice of a Blue-Ray player reader or a DVD-Super Multi double layer drive. These machines are targeted at that select band of users who want, and can afford, the latest and best in technology.
However, other machines in the range are directed at a wider audience. The x745 series are attractively styled with a black glossy-finish cover and are ideal business tools with built-in Webcam, 802.11a/b/g/draft-N, modem and Gigabit Ethernet connectivity as well as optional Bluetooth 2.1+. They are based on i7, i5 and i3 processors and come in 14, 15.6 and 17.3 inch screen sizes. They are all ultra-slim machines roughly 1inch thick and, with the 9-cell battery, can have their run time extended to 12 hours and can provide sufficient performance to be desktop replacements especially as the Aspire 7745 (17.3 inch) models have four slots for up to 16GB of DDR3 RAM. However, the inclusion of True 5.1 surround sound and high resolution graphics in a stylish package make these machines equally suitable for entertainment and will not appear out of place in the home. Prices of these machines are in the range £599 to £799. However, Acer recognises that many users who, while budget-conscious, want the security of an Acer-branded machine.
To meet this need, the company is introducing its Aspire x741 series starting at £499.99. To be offered in 14, 15.6 and 17.3 inch screen sizes these machines employ the i5 and i3 processors. They have high performance and, again, they provide full connectivity so will be ideal business machines. They incorporate built-in stereo speakers and an HDMI port enabling the notebook to be connected to a wide range of peripherals for bother entertainment and HD gaming.
As can be appreciated, the large number of permutations with this new range from Acer should ensure that there is a machine to suit virtually everyone's needs -- both in performance and style. However, with such a broad range, no dealer will stock the entire range even though they will do their best to stock an adequate range to provide a reasonable compromise for virtually everyone.