LG Flatron W2252TE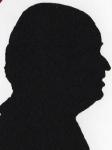 Review controls
The big thing about this 22inch panel is not the resolution it is what now seems to be a standard 1680x1080, it's not the wonderful sound –their isn't any- it is simply that is uses less power in both use and on standby so it can help your pocket and the planet.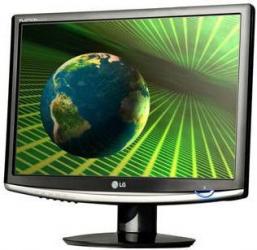 I find it weird that my more than three year old 20inch panel has a greater resolution than a brand new 22inch offering. Of course my panel is 4:3 and this is 16:9. The panel is 51x34cm and is a maximum of 9cm thick. It has a 20cm circular stand and this raises it 6cm above the desk. The screen itself is 47x29.5cm giving the diagonal 22inch measurement.
The rear has connections for analogue and digital as well as the power. I was quite surprised not to find built in speakers as whatever savings you make on power may well be negated by having some speakers.
This is very new and therefore may be the reason it arrived without any instructions. Under the screen to the right is a semi circular blue LED in the shape of a smile this is the on/off switch. Under the left edge are six push buttons and after a few minutes play I worked out how to use them. What they do is clear as there are legends above each button just on the grey surround to the monitors black facia.
As stated the maximum resolution is 1680x1050 and while this is rock steady and scrolls quickly without image breakup when viewing long documents or web pages I do miss the extra 150 depth that my own panel gives and for normal work the extra 80 on width means nothing. However when watching modern DVD movies you do get a better image with the extra width.
So onto the selling point an average panel will probably consume in the region of 40watts in use I found that this model used a tad under 20watts. In standby it was almost unmeasureable at .12watts. These figures seemed constant even once it has been on and in use for several hours. Could this be the greenest panel in the world?
It has a very respectable 2ms response time and a 10,000:1 dynamic contrast ratio. I am less sure about the 'Fun' button as this allows you to have a monochrome mode, a sepia mode and most strangely a blur mode.
This is more than 5cm wider than two A4 sheets of paper and at that width I would like the option to see that much without doing my eyes in, after all if you pasted two A4 letter pages on the screen around 50cm away from you then you would happily be able to read them. Yes of course if you use a decent word processor you can view two pages side by side in Microsoft Word however with the borders and menus you are well under 100%, by default it shows at 77% but you can tweak it to appear at 80%.
Despite the maximum brightness of 250cd/m2 I reduced this a long way till the brightness was 84 (out of 100) and contrast 66 and this still appeared quite bright, the other option here is Gamma and this I reduced to the lowest reading -50.
As stated I am not sure why the 'fun' choices are there why not give a small pair of built in speakers as when sound is required that means plugging external speakers and these need powering. I have yet to find anyone who can give a good reason why viewable areas are now smaller than several years ago, I suspect it's something to do with dead pixels and wastage but no one will say to me anyway. After all when 19inch panels got to this resolution everything larger had more. There was then the ruling about 20inch being something for recreation and hence a higher tax rate, this seems to be not applicable now – or is it – anyhow this 22inch uses less power than smaller units but cannot display more information.
I had only a week using this unit, if anything even at the reduced contrast/brightness it was still bright to me, I missed internal speakers and I certainly missed not being able to see more information column wise.
Doing my Internet searches finds it at £173.22 including delivery (a big plus) from the first link below.
http://www.amazon.co.uk/gp/product/B001IDZ45E?ie=UTF8&tag=gadge0a-21&linkCode=as2&camp=1634