Toshiba Portege M700-110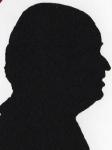 I notice that there are five models in this range and on reading the specifications the differences seem very much the same –see the last link- luckily I was sent the entry level version.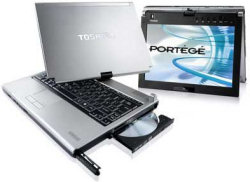 The Toshiba Port g M700-110 is a 12.1 inch notebook with an XGA display 1280x800. It is also a Tablet PC however I was quiet surprised to see it is supplied with Vista Business and not Vista Ultimate.
When the screen is open you can see in the centre of the back of the body an arrow telling you which way to twist the screen, likewise when lifted up the arrow tells you which way to return it to closed to save any possible damage to the screen.
The instructions say that Windows XP Tablet Edition is supplied on recovery media (I did not see this) but does that mean that Toshiba are so sure you will want to dump Vista?
Looking round the outside of the unit there are the external VGA port, modem port, Gigabit Ethernet port, mini (4pin) Firewire port, three USB2 ports, A/C adapter port, PC Card slot and a rather natty 5 in 1 card slot. This supports SD cards up to 8GB, Memory Stick to 256MB, Memory Stick Pro up to 2GB, MMC up to 1GB and xD up to 2GB. There is no mention on the slot of the wide variety of restrictions placed on these card types. As card sizes increase these restrictions may well become more of a problem.
Apart from Ethernet it or course supports both Bluetooth and Wireless. The Intel T7250 Core 2 Duo processor has a clock speed of 2GHz and a front side bus of 800MHz with 2MB of level two Cache. It comes with 2MB of DDR 667MHz RAM that is technically expandable to 4MB.
The hard disc is stated to be 120GB but Windows reads it as little more than 110GB.
There is a DVD (dual layer) Multi Drive dependant on the type of media you are trying to read/write it will function at between 4x and 24x.
There is an Intel GMA X3100 graphics chip and the 'Windows Experience' score of 3.5 with Graphics being that the lowest of the figures.
Unusually for me I have got this far without mentioning size or weight, sorry to confuse. It is 31x24x4cm and weights around 2kilos however should you know you will not require the DVD drive it can be removed and replaced with a provided weight saver shell to save around 100grams of weight. Mine came with a rather nice well made case.
There is a raft of software applets along with the almost obligatory 90day Norton Suite trial. There is also Inter Video Win DVD software. There is a raft of security software including fingerprint scanning to save you remembering passwords.
It comes with three year warranty. While this gave a good screen colour and brightness/contrast on both battery and mains, for a 12inch unit I think that 2kilos is still heavy although you do have a good range of ports etc included. As this is also intended to be used as a Tablet carrying two kilos around in your hands all day will either soon have you putting it down or developing strong wrists.
Doing my Internet searches found the Toshiba Portege M700-110 at a best price of £884.84 including delivery from the first link below.
http://www.microwarehouse.co.uk/catalogue/item/Y890995
http://uk.computers.toshiba-europe.com/cgi-bin/ToshibaCSG/jsp/productPage.do?service=UK&PRODUCT_ID=145877