PNY 2G Byte SD Card

Published Feb 18, 2008 Author
petew
Flash memory is a small miracle - but it doesn't come without problems. Unlike the veritable floppy that has remain unchanged now for over a decade, flash emory formats change more frequently than government ministers.

Apart from the obvious problems with knowing which format you need for a particular product, you're also often left having to buy different card for each of your gadgets. Even ignoring competing formats, individual formats have now spawned whole families of related standards sharing confusingly similar names.
In the case of the Secure Digital (SD) card family there is the original 'SD', along with it's newer cousins the mini and the micro SD cards. PNY hope to avoid some of the confusion by providing a single product that addresses the entire family.
Dubbed the '4in1 Full mobility pack' - this latest product comprises a microSD card with adaptors for miniSD and standard SD formats. Why 4-in-1? Also included in the pack is one other adaptor - this time for USB. This last is an important addition. One of the biggest challenges with a flash card is getting the contents onto (eg music) or off (eg photos) the card. This has in the past spawned such lunacy as 27-in-1 memory card readers.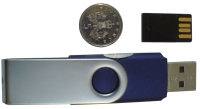 click to enlarge
The PNY USB solution is much neater. From the photo you can see that the USB adaptor is smaller even than the mini-SD card. Initially I was a little confused because it's also actually smaller than a USB connector! This is achieved by only actually being half a USB connector - it slides into slot. Clever!
All the adaptors along with the microSD card itself fit into the provided carry case.
To check the transfer speed over USB I copied first a single big 1G byte file and then a collection of files totalling around 200M bytes. The transfer rate in both cases - for reading and writing was around 3.5 to 3.8Mbytes per second taking 4 minutes 15 seconds to transfer 1G bytes.
I tried the card in various SD compatible devices here and had no compatibility problems.
The product is available in both 1GB and 2GB capacities. The RRP from PNY are £16.99 for 1G and £24.99 for 2G.
Information on the PNY site :
http://www.pny.co.uk/products.php?section=subcategory&subcategoryid=81&categoryid=4