Compact and Portable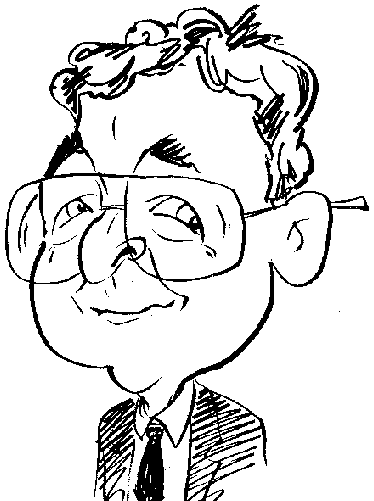 The age of luggable notebooks has long since passed. Now such devices can be held in one hand while typing with the other.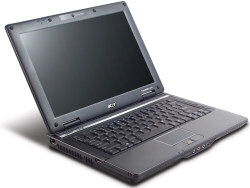 The arrival of Intel's Santa Rosa Centrino Pro technology has provided manufacturers with the ideal opportunity to refresh their current range of notebooks with some new attractive models. Not surprisingly, with its position as a leading notebook manufacturer, Acer has taken the lead with some new products that include the TravelMate 6292.
Although being touted as a desktop replacement model, the size and weight of this model mark it down as being more likely to appeal to the road warrior when such attributes are paramount. With its 12.1 inch screen, capable of 1280 x 800 WXGA resolution, the TM6292 measures 306 x 227 x 35mm (W x D x H) and sneaks in at around 2kg (including the battery pack). As I indicated, this is a notebook designed for travel as you tuck it under your arm or in a shoulder bag rather than the stationary location of the desktop.
The TM6292 is powered by an Intel Core 2 Duo CPU T7300 with 2GB of DDR2 memory. Graphics is handled by the Mobile Internet 965 Express Chipset with 358MB of available memory. Storage space is not skimped on as Acer has included a Hitachi 160GB hard drive and a multi-format DVD rewriter. You also get a card reader with support for SD, MMC, Memory Stick, Memory Stick Pro, and xD formats. Ethernet, Wireless LAN and Bluetooth will take care of connectivity issues. Three USB ports, two on the right and one on the left; Ethernet port; modem socket; standard audio sockets; and an infrared port are dotted around the various sides of the unit.
Decked out in black, and certainly looking sturdy enough to handle most travel eventualities with its carbon fibre and plastic chassis, the TM6292 is the first notebook that I have seen that does not have any means of fastening the lid in place when not in use. While the lid is unlikely to spring up at an inconvenient moment, the lack of a latch does open (no pun intended) the possibility that something could insert itself into the notebook and damage the screen when in transit.
As well as featuring a screen that produces a reasonable, if somewhat slightly dark for my taste, display, there is also a rather wide bezel. The reason for this extra width could be due to the built-in Crystal Eye 1.3 mega-pixel webcam which can be set to either 640 x 480 or 320 x 240 resolution. The camera can capture still images but, unfortunately, not video.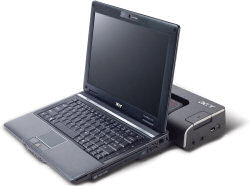 The unit's keyboard adopts a fairly standard rectangular layout. I initially found it a little cramped when working but, helped by the responsive keys, soon adapted to its size. Five quick launch buttons are positioned along the right of the main keyboard. These keys can activate features that cover a launch manager; email client; browser; Bluetooth; and wireless LAN. An additional key for bringing into focus, by dimming the rest of the screen, Acer Empowering Technology that provides the means to change various settings, is located in the top left corner of the keyboard.
A fairly standard touchpad is provided along with left and right buttons. Situated between these buttons is a fingerprint reader device that needs to be set up using the Acer Bio-Protection Fingerprint wizard. You can then use your fingerprint to act in place of a password.
Acer has rated the TM6292 as being capable of giving up to 5 hours of power using the standard battery pack. Unfortunately I was unable to achieve this figure. When viewing DVDs, the best I managed was 2 hours 7 minutes. Admittedly this should be enough for most single movie sessions but they are some exceptions. Switching to audio, with on-screen visuals active, increased the battery life to 2 hours 22 minutes. General office work, covering various activities, produced a battery life of 4 hours 2 minutes.
You are hardly likely to choose the TM6292 for gaming purposes but it will suit a more business orientated approach with maybe a little DVD and MP3 sessions for relaxation. The review unit came with Windows Vista pre-installed; a 60-day trial version of Microsoft Office; 90-day trial version of Norton Internet Suite; Cyberlink Power DVD; NTI CD & DVD Maker 7 plus various Acer utilities. Expect to pay £1029 for the version of TM6292 as reviewed.