Windows Vista and Word 2007 from Apress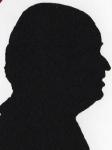 A new operating system and a vastly revamped product. Surely now is the time to start learning again and these two books from Apress give the insight it may take you years to learn on your own. Both the books are subtitled 'Beyond The Manual'
Windows Vista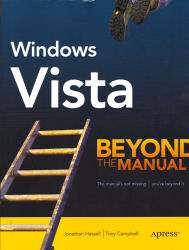 The first thing is that there is no manual with Vista - like a lot of other software packages today - help files and even PDF files are not manuals. This is described as a companion and not a crutch. I think this means that while it covers how to, it certainly will not tell you how to use a mouse so you need a working knowledge of Windows.
It is just over 500 pages long and like so many book today written by two people, Jonathan Hassell and Tony Campbell. It has a total of 32 chapters and the all important index.
The first four chapters are the basic stuff, Introducing Windows Vista, Meeting the Hardware Requirements, Installing and Setting up Vista and Finding your way around the Desktop. The next six chapters will probably be of interest to anyone already using Vista. Customizing Windows Vista, Working with user Tools, Administering Windows Vista, Working with the Command Line, Understanding the new Folder Structure and Working with the File System. As a Vista user of a few months I found these very helpful.
From chapter eleven to chapter twenty nine cover special parts that may or may not be what you need however at some stage some at least will save you some time - and perhaps some grey hairs - so keep the volume handy.
This leaves A Six-Step guide to better Security, Maintaining the Windows Registry, Troubleshooting and Recovering from Serious Issues. While all the chapters titles are quite descriptive there will always be some things that need the closely printed fifteen pages of Index mainly because you are not sure in which chapter they fall.
Certainly a book that will stay on my shelf. The US price is $39.99 but the UK price is stated at £27.99. Admittedly the copy I was sent was a US one but surely with virtual two for one on the dollar it should be £20, still it is a very useful book.
http://www.apress.com/book/bookDisplay.html?bID=10219
Word 2007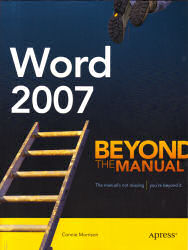 This is one of three books in the same series as the Vista offering above they are Word, Excel and Outlook all specifically for the 2007 version.
I have only seen the Word 2007 book and this is written by Connie Morrison. However it is in the same 'Beyond the Manual' set. Word 2007 has many differences from earlier versions of Word. The obvious one is the rearrangement of the desktop and of course the introduction of the 'ribbon bar'.
I suspect anyone who has used Word before would be able to type a letter or short document without too great a difficulty, however they would probably struggle to do anything with it such as Print, Save or Copy etc as the 'File' menu has moved.
On a more advanced level the old "80% of us use 20% of the features" is still true but with the new layout and way of working how do you find the 20% of the features that you use?
This is a little over 300 pages and contains 12 chapters before the all important index.
The 12 chapters are Word 2007 Overview, Getting Started with the new user Interface, Viewing Documents, Formatting and Editing, Creating Documents more Efficiently, Designing Page Layouts, Using Reference Features, Creating Envelopes Labels and Merge Documents. Working with Others, Creating and using Macros, Using Templates, Form Controls and XML and finally Publishing Documents.
Certainly anyone coming from earlier versions of Word will progress faster having studied what this book has to offer.
The stated US price is $34.99 and the UK one £23.99 again not a great exchange rate.