Netatmo Weather Station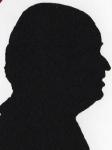 Until now all the personal weather stations I have reviewed display the results. Here you have two cylinders with no apparent displays, press the top of the larger one and a line of colour appears down its side nothing else is shown.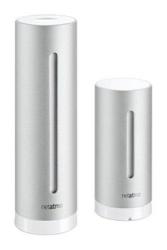 click image to enlarge
These are designed to display via Wi-Fi to your 'i' or Android device, both allow you to download a Free App to show the results. I know that you can also display results on a PC when you link to your free account as all information remains on their servers.
What you get in the box are two cylinders, the larger one is 15.5cm tall and 4cm across. This needs mains power which is supplied by a USB lead, it can be from a PC or notebook or via the supplied USB to 13amp plug. The second cylinder is smaller at 10cm tall and runs on 4x'AAA' batteries (supplied) and according to documentation they should last around a year. This second unit is described as splash proof so it cannot be totally exposed to the weather or of course direct sun.
The only other thing supplied is a Getting Started sheet which is a number of images.
As with certain press samples they get passed around and in my case the Getting Started sheet was lost before it got to me. I spent a good amount of time trying to set it up on my Android device only to be told frequently that I had no Weather Stations. This was eventually sorted by setting it up on my PC and this giving me a message that my Wi-Fi was not responding which it turns out was in fact the previous reviewers, once it allowed me to set up my own all went well. I also found out later this could have worked on my Android device if I had Bluetooth enabled.
While I am quite happy to experiment when setup works it is less satisfactory when the Netatmo website has no help files available until you have installed the product which of course you cannot do without Wi-Fi!!!!
While I am now – I think – up to speed the 'i' device interface is more mature than the Android one and my iPod Touch was easier to use and offered more information, it is to be hoped that the Android offering will improve with maturity.
There are basic help files within the package but I would have liked a decent .PDF file to answer some questions. Just by chance I attended a press event put on by a distributor a couple of days later and Netatmo were attending so I was able to get a range of questions answered.
The process is that the smaller (external cylinder) communicates with the larger (internal cylinder) and this sends Wi-Fi data from both units via your modem to the Netatmo servers, this I was told happens every five minutes. You can set various alerts to either activate the colour strip down the side of the inside unit with or without an audible tone.
Should you want an instantaneous reading then touch the top of the larger cylinder and a reading is sent via Wi-Fi to get back to your PC or Android or 'i' device takes between 10 and 15 seconds.
I was told the reason the larger cylinder does not run on batteries is that the data transfer would soon drain them, however it does have space inside for 4x'AA' batteries which I am told would/will work if it was an extra internal unit. So the master unit needs USB power other units work on batteries.
What is displayed on the screen varies according to device but all seem to display outdoor temperature and humidity. The indoor readings temperature, humidity, barometric pressure, CO2 reading and sound reading.
As this is described as an Urban Weather Station I would have thought the Sound Reading might be more appropriate from the external unit, especially for those unfortunate enough to live on a noisy road or under a flight path.
When you work out how to display the data this can be shown in graphs which you can expand or contract to show minute movements in all the various readings.
Currently I think it is a little expensive and with no User Manual I feel they will get a lot of returns with people unable to get the best from it and I do not mean my own install problems which should not apply to a new unit.
The Netatmo Urban Weather Station is available from the link below for £139 with free delivery.
http://www.amazon.co.uk/gp/product/B0098MGWA8?ie=UTF8&tag=gadge0a-21&linkCode=as2&camp=1634