Salter Bathroom Scales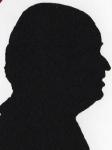 Review controls
If like me you find bathroom scales hard to read then either of these offerings from Salter may well have the answer. The first has a magnified display that stays on for a while once you step off. The second is all glass with large digits.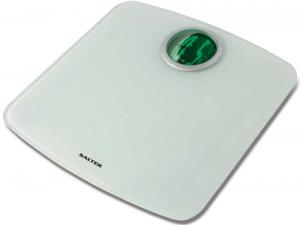 click image to enlarge
Salter EasyView Electronic Scale 9072
Unpack, attach the supplied 3x'AAA' batteries, attach the rubber foot covers place on the floor, the unit shows 0.0 it will then switch off. Step on it and it will show your weight in the default measure of kilograms. Step off and it will still show the weight for another four seconds giving you ample time to bend down to read the display should it be necessary.
It is approximately 28x28x2cm but as the corners are chamfered it could be slightly different to the size stated.
There is a push button on the underside that toggles between kilos, stones and pounds. It has a simple one push to move to the next weight. The maximum it is designed to weight is 200KG, 31stone 6lb or 440lb. The scale works in .1 kilo increment or ¼ lb increment according to which of the three methods you have chosen to use.
The unit sent to me was described as lime green but it was very pale – near cream – so would go with most colour schemes. The scale itself is toughened safety glass and the display is green with the numerals being 6cm in size.
The platform is described as having a 'large platform for generous foot room' my size ten feet fitted easily on it. It is also described as having 'convenient step on action' this means just step on and read the result with no waiting.
It is of course easy clean should you choose to use it with wet feet and I found it rugged as it was setup immediately on being unpacked from the courier's delivery.
The Salter EasyViewElectronic Scale 9072 is available from the link below for £24.99 with free delivery.
http://www.amazon.co.uk/gp/product/B005YSYL12?ie=UTF8&tag=gadge0a-21&linkCode=as2&camp=1634
Salter Compact Glass Electronic Scale 9081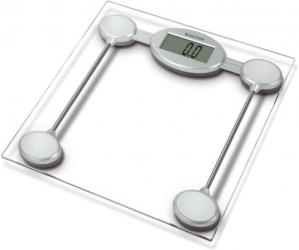 click image to enlarge
Unpack, pull tab out of battery bay (clock type battery pre installed) place on solid floor and weight that is all you have to do.
If you are on carpet you must change the feet bases or you will not get an accurate reading. The four feet are supplied with a two stage remove/replace diagram to show the action required. There is a single side of instructions in English in a seventeen language manual. However setup is as easy as described so not really required.
Again you can weight in kilos, stones or pounds. A push button control on the base of the scale toggles through the options.
It is 25x30x2cm, this is a true rectangle and my toes just went over the end of the unit without affecting my weight. However if you have really big feet the model above might be more accurate for you.
The figures are 2.5cm long but just like the unit above it stays on for several seconds to allow you ample time to read the display.
This time the glass is clear and only the four corner (silver) feet tops show through along with the 8x5cm overall display, the visible display is 6x3cm.
Salter Compact Glass Electronic Scale 9081 is available from the link below for £15.07 with free delivery.
http://www.amazon.co.uk/gp/product/B002PU9U36?ie=UTF8&tag=gadge0a-21&linkCode=as2&camp=1634 Their site lists 37 different personal scales. http://www.salterhousewares.com/salter_uk/catalogue/personal-scales?p=1