Black&Decker Outdoors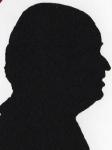 Not as you may think power tools but a couple of high powered torches and then all you need to keep stuff cool or warm providing you have a cigar lighter socket nearby so ideal for days out in the car.

Black&Decker Light Bar BDLB14
Now summer is officially over maybe we will have some decent weather for those outdoor activities, the only problem is nights are drawing in so light is needed, while an ordinary torch will light you way its probably a pain to read with and certainly for things like eating not really enough.
Here a 26.5cm tall light bar, it can be hung or stood on any flat surface. It is powered by 3 'AA' batteries that fit into the base it looks able to withstand the odd shower. One simple control a push button 10cm up from the base. Push once and you get three pairs of LED's, push again you get all seven pairs, push a third time and it's off.
The lights themselves are from 14 to 22cm above the base. The total weight with batteries is around 360grams. Batteries included (hurrah) and so is a carry bag, just as well as it comes in one of terrible plastic display units that need industrial scissors to extract it. Battery life stated as 14 hours full power and 30 hours with six LEDs. Available for £22.39 from the first link below.
http://www.toolmix.com/browse/product.asp?pid=79072
http://www.blackanddecker.co.uk/automotive/productdetails/catno/BDLB14/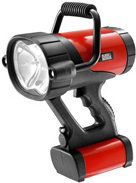 Black&Decker Quartz Light BDV158
Something all together bigger, while it does come boxed it still all but needs to be destroyed to extract the unit.
It is 35x22x19cm the latter figure the width is maximum at the light beam end. It weights just over 3.2 kilos, this has a lead acid sealed battery. It is really designed to be held in one or both hands but quite able to stand on the ground or a table.
It can be charged from a car cigar lighter socket or from mains. Stated as two halogen bulbs it does have those but also two side bulbs rather like side lights, these are called LED area lights by the twelve page well illustrated manual.
There is a three setting slider, 00 for the LED lights, 1 for one halogen bulb and 2 for both. There is also trigger mechanism for when you just need a short burst of light.
The front of the unit has a 12volt DC output so in an emergency it could even give a life saving start for a near flat car battery. In use this is a serious light. Available from the first link below at £53.24 including shipping :

http://www.amazon.co.uk/gp/product/B001325IBK?ie=UTF8&tag=gadge0a-21&linkCode=as2
http://www.blackanddecker.co.uk/automotive/productdetails/catno/BDV158/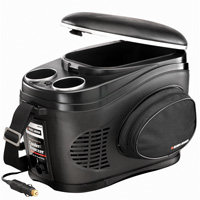 Black&Decker Travel Cooler BDV212F
Again ideal for use anywhere where a car cigar lighter is available but it could be used in conjunction with the BDV158 above using its 12volt DC output.
At last something that comes in a conventional cardboard box open the box to see a padded container with a carry strap. In fact it could even be used as a stool. The electrical fittings are hidden under a door at the front.
It is 41x23x30cm and without any contents is not that heavy. There is an illustrated manual the first four pages are in English. Overall it is stated to hold up to 9 litres.
It can cool, (even freeze small ice cubes, cube tray and ice mat supplied) or heat. The maximum heat is 48 degrees C and this (dependant on outside temperature takes between 100 and 120 minutes to be reached. It can cool to 27 degrees below the current temperature.
I can see this being used as a cool box in a car or maybe to keep items warm but 48 degrees C is hardly hot.
Available from the first link below at £59.57 including free delivery.
http://www.amazon.co.uk/gp/product/B000VKKCU2?ie=UTF8&tag=gadge0a-21&linkCode=as2
http://www.blackanddecker.co.uk/automotive/productdetails/catno/BDV212F/