Catpod - outdoor cat shelter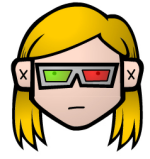 Catpod is a outdoor cat shelter made from a Contico Monster Fun Storage Trunk and a Ferplast Swing 1 cat flap.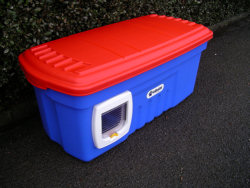 Catpod is a simple product idea I came up with to provide shelter for our cats. It's basically a 189 litre Contico Monster Fun Storage Trunk with a Ferplast Swing 1 lockable cat flap at one end.
Dimensions:
External: L 1100 x W 510 x H 480mm
Internal: L 910 x W 360 x H 420mm
Capacity: 189 Litre
Weight: approx. 5 kg
Benefits:
Easy to make. Total construction time was about 25 minutes.
Weather resistant
The addition of the lockable Ferplast cat flap enables the shelter to be used as a secure cat carrier / transporter. Ventilation is achieved through the vents under the handle recesses of the box
The Contico box has a moulded base which lifts it off the ground for additional insulation and a secure snap-fit lid. The box is also tough, light weight, easy to move with the handles, easy the access with the removable lid, easy to clean, and the all-plastic constuction requires no painting
Total cost - £20.99 (box - £16, cat flap - £4.99).
I used the Contico box because I like the groovy red and blue colours, but you can also get them in all green plastic. Tesco, Homebase, Focus DIY, Solent Plastics and other retailers stock them. I chose the Ferplast cat flap because it is very well made compared to cat flaps of similar price, and it is also jolly simple to fit without any fiddling.
More information available here: http://www.catpod.co.uk
More photos available here: http://www.flickr.com/photos/spriggo/sets/72157603638012028/
Editors note : Jase was too modest to give his own gadget smilies - but we think it's such a GREAT idea that we decided to do it for him. As cat owners ourselves (five at the last count, with the oldest at 19) we can see some wonderful applications for the "CatPod". I hope you'll all agree that this great idea definitely deserves a 'Highly Commended' award!