The Giles and Posner Chocoate Drinks Maker - a great alternative to coffee!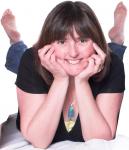 New from the chocolate fountain people, Giles & Posner. Think Johnny Depp and Juliet Binoche in Chocolat for this one - and hot chocolate has never tasted so good!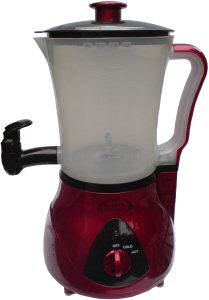 In amongst the coffee machines we are reviewing this month, we came across this Giles & Posner Chocolate Cocktail Drinks Maker. As a dedicated chocoholic, this made me smile.
The chocolate drinks maker looks a lot like a liquidiser with a heating element. And really that is broadly what it is - except it doesn't chop anything, it mixes and heats. The idea is very, very simple. Break up a chocolate bar, add milk or cream, and other favourite flavourings. The chocolate drinks maker rotates the ingredients and gently heats. Then when ready the machine switches off and you can pour out your delicious hot chocolate drink from the tap at the bottom of the mixing container. The result is smooth and at a ready to drink temperature.
Getting the recipe right is crucial. Don't make the mistake of making it so rich that even the children can't drink it! I merrily started with milk chocolate, milk and golden syrup. Even for a sweet tooth this was very rich. There's something about melted milk chocolate that makes it seem even sweeter and the golden syrup was just overkill!! So I started again today, with Green and Blacks dark chocolate with orange, using less than the recommended 100g of chocolate to 500 ml of milk. This time it was just perfect. Pour in the froth from the bottom of the mixer and add a little whipped cream from a can, and I challenge any coffee shop to come up with something so beautiful! My next challenge is to see if I can get good results from Sainsbury's value chocolate (I'll add a note in the comments below once I've got around to this one).
The great thing about this machine is you really can just let your imagination run wild. There is a lovely recipe book full of ideas for combining various flavourings with different types of chocolate, even adding Cointreau or Amaretto to some for an alcoholic alternative. (Note to self - must buy some Tia Maria to try with the Orange chocolate!)
Another easier and simpler approach which works just as well is to buy a flavoured chocolate, such as the Green and Blacks range and just add milk.
There are suggestions for cold drinks as well, using the cold only setting, although I think the real benefit of this machine is that it heats and mixes.
It's incredibly easy to use, reasonably easy to clean, and takes just a couple of minutes. Unlike using the stove, there's no chance of the milk bubbling up and over!
My only gripe - where was Johnny Depp?!
The Giles and Posner Chocolate Cocktail Drink Maker retails for £39.95. Stockists are available from the Giles and Posner website.
http://www.gilesandposner.com/stockists.htm
A great gift for any avid chocoholic!