Braun WaterFlex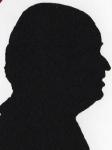 This neat electric shaver can be used as a dry shaver or as a wet shaver. For that top up before a night out when leaving the office its ideal. It also works exactly like a wet shaver when required, just lather up and shave in the normal way.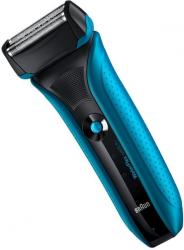 click image to enlarge
The Braun WF2S WaterFlex shaver measures 15.5x5.5x4.5cm and weights 279grams.
The stand is light – some might say flimsy – and consists of a base and sloping back that slot together, the 1.5metre power lead plugs into the base and as seems the fashion for shavers goes to a two pin plug. This might be useful for electric shavers that need mains in the bathroom but rechargeable units like this are more likely to get there power from a standard 13amp socket and for this you of course need an adapter and this is not supplied.
Lay the shaver in the stand and providing you have power connected it will charge.
The shaver is a mix of plastic, rubber and metal. The plastic is towards the base of the unit and the two control buttons. The rubber is above the control buttons and around the sizes and back. The metal is the foils in the head and the area around it.
There is a separate single blade side burn trimmer that clicks up from the back.
The twin foil shaver bars have a cold bar in between. The cold bar is an option but does give a rather nice feel when implemented.
As stated the face has two buttons the lower one is on/off while the higher up button glows blues like frost when switched in.
For a wet shave it was perfectly acceptable. For a dry shave on the day after a wet shave fine but dry use on day two or after a weekend without a shave less good. The bristles it cleared OK but softer hair under the chin it did not pick up and if you persevered it did tend to snatch at this leaving a rather unattractive finish.
The units head despite being straight has a degree of swivelling which is stated to be up to 33degrees.
It is stated to be waterproof to one metre so that should take care it if dropped in the bath. I did like the ability to rinse it under water a lot easier than trying to blow beard out of a dry only razor.
As stated when the beard is short and spiky then this unit works wet or dry, on day two after a wet shave on day one you should be able to dry shave and still get a good result. Sadly I do not agree that the three stage cutting system works effectively on my beard anyway.
There are occasions when I work from home for several days in a row and when in that mode shaving is low down my lists of things to do. For those occasions the only result is for a wet shave and here it works almost as good as a blade.
The Braun Water Flex is available from the first link below for £79.99 with free delivery.
http://www.amazon.co.uk/gp/product/B00L7S9M4Y?ie=UTF8&tag=gadge0a-21&linkCode=as2&camp=1634
http://www.braun.com/global/male-grooming/waterflex-shavers.html