Braun cruZer 6 precision and CoolTec Shaver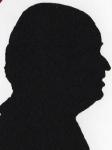 I saw these items at a retro event showing lots of items from Brauns past and also an exhibition of specially commissioned posters in a trendy setting of a furniture showroom. The Trimmer was available to take away the chance to review the shaver followed later.

click image to enlarge
cruZer 6 Precision
While at the event I said to a journalist I have known for years what use is shaver to you as he has always had a beard, his answer was it still needs to be trimmed. Indeed this is of course true and this offering from Brawn could be the answer.
This is 15cm long including the head and shaped like a pen, the thickest bit is in the centre where the single 'AAA' battery sits behind a pull apart section.
It has two heads provided a 5mm comb and an 8mm comb either attaches – within the stated length – and there is a single button on the side.
Switch on and run through your beard and anything longer than 5 or 8mm is cut off. This is a simple device with just a single purpose. It is supplied with a cone shaped weighted base to store the unit when not in use.
The cruZer 6 Precision is available from the link below for £15.99 with free delivery.
http://www.amazon.co.uk/gp/product/B0051ZCCIW?ie=UTF8&tag=gadge0a-21&linkCode=as2&camp=1634
Braun CoolTec Shaver
This is a wet or dry shaver with a twist that gives an unusual cool touch.
The Braun CoolTec CT2s measires 15.5x5.5x4.5cm which are the maximum figures. It weights 278grams.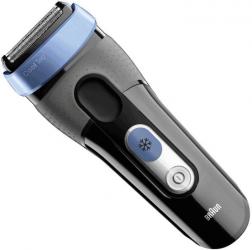 click image to enlarge
This rechargeable unit comes with 10x10x7cm charging stand and a hard wired two pin plug so you will need a razor adapter (not supplied) or a dedicated two pin socket often found in modern bathrooms for charging.
This is a twin foil unit with the 'cool touch' between the foils.
The 'cool touch' is bar that produces a cool feeling on the face and at first it feels quite strange, however with both wet and dry shaving the cooling effect on the skin can be quite pleasant, I found during my testing that the lack of the 'cool touch' was a sure sign that the unit will soon need recharging as this cuts out at least a couple of shaves before the main foils stop working.
While this can be used as a wet shave it is only for use with foam or soap just the wet face and you are advised to wash after use. You can use it in the shower but again with nothing other than water on the face. This helps with an extra day or twos growth that a dry shave does not handle that well.
The face of the shaver has an on/off button with the 'cool touch' button above it and a rubberised finger hold above that which can be useful with wet hands.
The rear has a flip up trimmer that I found especially good for removing the bits of hair that often need a visit to the barber before the rest of the head, bits around and especially behind the ears were perfectly removed, then it's find the vacuum or dustpan and brush to remove them from the floor or if shaving in clothes the clothes brush from upper garments and then the vacuum etc.
The Braun CoolTec Shaver is available from the link below for £80 with free delivery.
http://www.amazon.co.uk/gp/product/B00CEB4DJW?ie=UTF8&tag=gadge0a-21&linkCode=as2&camp=1634