aXbo Alarm Clock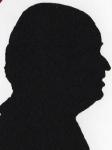 A clear Perspex face (black letters on a clear background) and either a white of black surround. This is an alarm clock but an alarm clock that only wakes you at the required time should your sleep pattern not allow a gentle wake, up to 30 minutes earlier.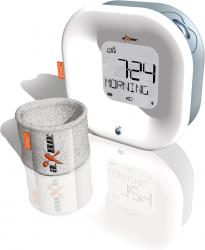 The clock is 12x12x4cm with the display area the central 5x5cm portion. The left side has the speaker while the right top corner has a wheel and two push buttons that make up the controls.
Being of mature years (old) means I do not tend to sleep well and despite weeks of trying I was always awake when the alarm was due so although I was probably dozing my movements were too much for the early wake up to work.
You can set two different alarms so this clock can wake two people at different times. Each alarm is synchronised to a wrist band and this has a small 5.5x3.5x.5cm plastic identifier inserted in it. You put the wristband on your non dominant wrist (left if you are right handed) with the arrow side uppermost facing your fingers.
This is then recognised by the clock and it just remains for you to set your wake up time. Apart from the alarm when you touch the button you go to Chillout, three different noises that are able to relax you before rising.
There are of course a range of alarm sounds and if using the second person option it is recommended to choose different sounds.
There is a small 38 page manual that covers all the settings and perhaps most importantly the theory behind human sleep. Briefly during a normal night of say eight hours you go through four different phases in varying amounts of time.
Phase one is falling asleep, dreaming and wake up phase. Phase two is light sleep. Phase three medium deep sleep. Phase four deep sleep. With the illustrated graph shown phase four occurs only twice at around one hour and two and a half hours from falling asleep. Phase one occurs up to six times in that period and that is when the alarm should help you to stir gently to wakefulness without the clock needing to rouse you with the alarm.
It has a built in battery that needs to be charged around every ten days for heavy use but as a single user the on screen indicator was still showing fully charged after two weeks so I assume that is for those who ignore the alarm and leave it to go on for ages when of course battery use would be far greater than if switched off immediately.
Apart from my sleep patterns not being normal I have a couple of criticisms. If you look at the clock in the night you will see nothing as the black on grey display will not be visible unless in a lighted room. When the alarm goes off or you touch one of the controls you get a blue light coming on, a separate check time button well away from the other controls would be useful. My second gripe is that the three control buttons are all very close and in a dozy state the wrong one can be pressed.
Doing my Internet searches found the aXbo sleep phase alarm clock at a best price of 194.99 Euros from the first link below. The second link 199 Euros or 179 Euros for single person model offers a 14 day money back guarantee.
http://www.wellango.com/en/Sleep-Phase-Alarm-Clocks/?adword=axbo%20clock
http://www.axbo.com/axbo/CMS/CMS.aspx?ClientID=wf88453447-7c22-4dcd-bad0-28f91379dfd7&SiteID=0&GroupID=8&Status=328EA69CA4B0A3&Language=e