GPO Westwood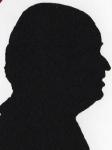 A speaker and an amplifier in what looks like a very retro case. The modern touch is that apart from having two wired inputs it can also be used as a Bluetooth speaker. So what may initially look like a 40s or 50s radio is not that at all.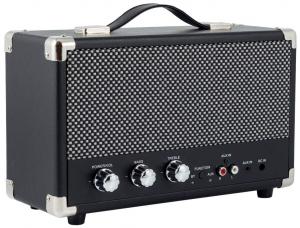 click image to enlarge
The GPO Westwood speaker measures 26x16.5x10cm, weighs 1832grams and comes with a 1.7metre mains lead ending with a small power brick.
Mine was covered in a brown material with metal corners coated with varnish that make it look aged there is also a leather handle on top that also has metal connections again coated with varnish making the old look realistic.
Both the front and back have a realistic cloth grill coating in a similar colour. If brown will not float your boat other colours are available.
Four 1cm rubber feet are at the corners of the unit to prevent the metal corners touching whatever you place the unit on.
The controls are in a line towards the bottom of the base. There old looking 2cm knobs. The first on/off/volume the next bass and the last treble. Beyond these two LEDs with a function button between them, the first Bluetooth with flashes blue and the second Auxiliary that flashes red. Luckily as this is the back the continually flashing will not be visible. Next RCA sockets then Auxiliary in and finally DC input.
If you are using this with your SmartPhone I suggest setting the volume level low initially as the 25watt out with the built in sub-woofer may give more volume than you expect.
Also in the box is a pair of RCA leads that allow you to connect in that manner to give quality output. However if all you have is a 3.5mm lead you are also catered for.
So you have control from whatever you are playing from as well as control of volume, bass and treble as the speaker end.
I have only two moans the constant flashing of the LED either red or blue according to mode it would not be nearly so off putting if it remained solid. The other is that it cannot work from batteries. I am sure there must be some space within the cabinet for a rechargeable battery, after all the whole point of Bluetooth is to lose the wires.
This is a nice well-constructed speaker with amplifier, it can increase and improve the sound you get from SmartPhones.
One option with the RCA leads would be another product sold by GPO is their turntable (more than one model) and they have RCA jacks so you can enjoy your old vinyl with a reasonable volume level and the sound quality that good vinyl gives.
Overall this radio sized box gives a good sound and has the ability to improve what is input not only by increasing the volume but adjusting it with bass and treble.
The 'Old Look' is in vogue the trouble is I am old enough to remember it when it was not the 'Old Look'.
The GPO - Retro Inspired Design - Westwood is available from the link below for £89.
http://www.gporetro.com/products/category/speakers/gpo-westwood/