Pioneer Free Me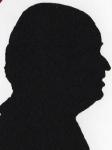 The last item I reviewed from Pioneer was an excellent sound bar, here something much smaller in fact it is designed to give sound without wires and is something you may use when away from home or your office it's called Free Me.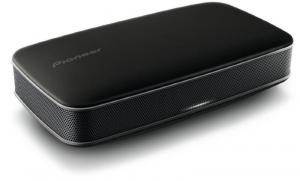 click image to enlarge
This is a small portable speaker at 15x8x3.5cm. Like other Pioneer products it is solidly constructed and as such it weights 360grams, which is quite a lot for a speaker unit of this size.
The top and base are a neutral dark grey with the central 12x5cm area of the base rubberised to 1cm depth which raises the speaker grill that goes round all the sides by nearly 2cm from whatever it sits upon.
There are five rubberised push buttons 1.4x.7cm along the back then this line is completed by an unmarked small hole (reset) 3.5mm socket for input and finally a micro USB socket for charging.
It comes in a well-padded box that has a three language manual with the first 30 pages in English.
Also in the box are a 13amp plug with USB input on the rear (for charging), a 1.5metre USB to micro USB lead, a 1metre 3.5mm to 3.5mm lead and a soft fabric case to carry the speaker with you on your travels.
As described the unit works fine and only on reading the manual while testing did I find that the rubberised base flips open to reveal a stand for the unit. This of course alters the sound produced somewhat but some may prefer it with the rubberised cover in place and it is certainly better on a damp surface that way.
It can be used while being charged either from the plug provided a PC or even a 'Power Bank' device. Total charge time is around 150 minutes.
Once switched on the face shows a bar LED in the centre of the unit to the right of this a microphone behind the grill. A full explanation of the various lights and blink status is clearly laid out in the manual.
This unit can be uses in three ways, first via the 3.5mm lead provided meaning not only recent phones and other devices can be connected but also older MP3 players. Second via Bluetooth and full instructions on how to do this are shown in the manual. Thirdly via NFC for those with suitable recent devices.
I tested all three connections without problems and for a small device the sound output was excellent, when using either of the last two sources then it is possible to receive calls not however if you connect via the 3.5mm lead and Auxiliary socket.
I was happy with the sound quality especially given the small overall size of the unit. The safety instructions do give warning about getting the unit wet.
The Pioneer XW-LF1-k is available from the link below for £99 with free delivery.
http://www.amazon.co.uk/gp/product/B00KR6JQAC?ie=UTF8&tag=gadge0a-21&linkCode=as2&camp=1634