Damson Vulcan and Pioneer Free me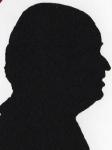 First a unit from Damson who I have reviewed items for in the past, this is a 4.1 speaker system in a single unit. Second a unit from Pioneer described as a Wireless (Bluetooth) Speaker System but again a unit in a single small case.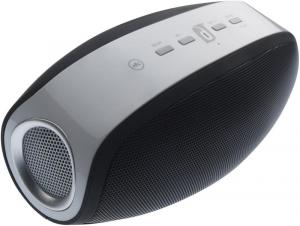 click image to enlarge
Damson Vulcan
Hands up all who have not heard of 4.1 speaker systems? You are not alone, 2.1, 3.1, 5.1 and 7.1 are all quite common but 4.1 needs a little thinking about. This is a quality unit that looks rather like a slightly small rugby ball.
This works with an internal rechargeable battery. It can take input via 3.5mm lead (provided) or Bluetooth it also supports NFC. There are two connections on the rear for the DC and Auxiliary inputs; it can be used while on charge.
The top has four buttons with a large LED splitting them this changes colour according to the mode you are in.
The four buttons are on/off, volume -, volume + and mode select. Below the LED is a pinhole microphone so you can remotely answer your phone etc.
It is 23cm long and a maximum of 11cm across in the centre and 6.5cm across at the ends.
The front is totally covered by a black grill as is a 13cm section in the centre of the back; the two ends have a silvered circular grill. If I say the rest is a cream plastic (black also available) apart from the base that has a black rubber finish.
The sound quality was excellent the music on my SmartPhone sounded great, the surface you choose to place the unit on will affect the tone of the unit, I was more than happy with both base and treble reproduction on a variety of surfaces. Their website (link at the end) has a suggested range of suitable – and unsuitable – surfaces.
The stated usage time of the internal battery between charges is around 12 hours, in my tests with adequate volume for the unit to be heard in a central position in my hall between my kitchen office and lounge was six and a half hours. Just over half that claimed in the manual. I have spoken with another user who get 7½ hours.
The Damson Vulcan is available from the link below for £99.99 with free delivery.
http://www.amazon.co.uk/gp/product/B00M3RJYXC?ie=UTF8&tag=gadge0a-21&linkCode=as2&camp=1634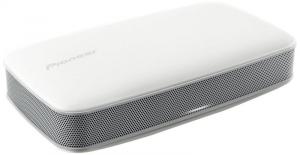 click image to enlarge
Free me from Pioneer XW-LF1
The Pioneer XW-LF1 measures 15x8x4.5cm and weights 354 grams.
Coated with a black rubberised material and sitting on a 1cm rubber base. The grill runs round the front and both sides. When on a white light glows from the centre of the front.
I tested it with files from several different units using both Bluetooth and Auxiliary inputs. I was impressed with the sound quality.
The rear has a micro USB socket (cable included) for charging and 3.5mm socket for Auxiliary input. There are five touch buttons each is well marked as to its job but they can be difficult to see in poor light as they are light grey on black.
There are two Operating Manuals each with three languages with 29 pages in English. I only refered to them in passing as the use of the unit is straightforward.
If you connect to your SmartPhone you can mute it to make or receive calls and it has a good quality pin hole microphone.
A fuller review of this unit will follow later in the year.
The XW-LF1 is available from the link below for £99.99 in white.
http://www.amazon.co.uk/gp/product/B00KR6JPBM?ie=UTF8&tag=gadge0a-21&linkCode=as2&camp=1634