Polk Camden Square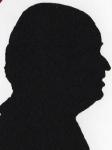 This is a rather nice square speaker from Polk; it can be used with Bluetooth or via a 3.5mm lead to connect to older music devices. This has an internal battery so in Bluetooth mode no cables are required so it can be placed almost anywhere.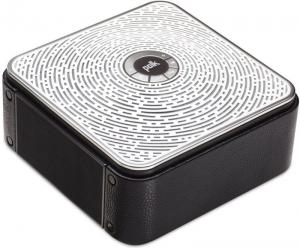 click image to enlarge
The Polk Audio Camden Square bluetooth speaker, as the name suggests, is square measuring 17.5x17.5cm and 8cm deep. It is not light as it weights 1935grams.
The face is one large speaker with a white patterned grill. Both sides have a more conventional grill mesh 11.5x6cm. The base and top are covered in leather and the back has a grip to enable movement as well as four 15mm round rubber feet as it can be used lying on its back.
The only connections are two sockets side by side on the right side for DC power and 3.5mm input.
The centre of the front grill has the Polk name in a lozenge and six controls arranged in a half circle around it.
These are – volume, on/off, back track, forward track, play/pause and volume +.
As I normally do I tested it first with 3.5mm lead attached from my audio system as this gives me a good base to work from as I am using higher quality audio than MP3 can give, I was perfectly happy with the sound quality and the range that the speaker could produce.
Next still with a lead attached MP3 from a standard MP3 player and then with sound from a device that does not have Bluetooth, again good sound.
Now to pair with a Bluetooth device again no problem a rapid pair without any difficulty, and again I was very pleased with the sounds.
Now the test where a lot of units fail, the normal claim for Bluetooth devices is 'up to 10 metres' and in my property with its solid walls this is always a problem. I did however get three rooms – four walls – away before the signal started to drop but that is as good as any Bluetooth device gets.
In the open you do of course get to 10 metres but not in a solid arena.
I then tried other Bluetooth devices and was just as pleased with results.
Now to return to a SmartPhone first with 3.5mm lead connection and then with Bluetooth playing the same tunes no difference in quality of sound which is what you hope.
I found that I got 25 hours of playback from a single battery charge, this was over a three day period.
The unit actually has six speakers within the 'square' and these do give a pleasant full sound, much more than you would expect from a single unit.
This is a very nice item and now the word to prepare you for the price, that word is 'quality' so now you know it will not be cheap.
This is the first of three items I asked to review from Polk from a recent presentation.
The Polk Camden Square is available from the first link below for £227.10 with free delivery.
http://www.amazon.co.uk/gp/product/B00K5Q96PO?ie=UTF8&tag=gadge0a-21&linkCode=as2&camp=1634