Jam Plus Rechargeable Speaker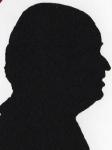 It was at a Christmas In July event in 2013 that I first saw one of these. As sometimes happens there was glitch and it was only at their Christmas In July event at 2014 that one was available, however my tests seem to prove it was worth the wait.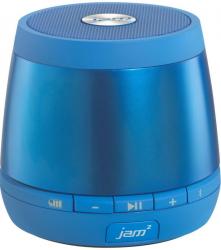 click image to enlarge
Jam Plus Rechargeable Speaker is round at 7cm tall and a maximum – at the base of 8cm across. It weights 258grams.
A number of such small devices require whatever they are sitting on to amplify the sound. This is not the case with the Jam Plus that produces all its sound internally.
It is designed predominately as a Bluetooth speaker but it also works perfectly well with a 3.5mm lead using headphone socket on your music device and Line In on the Jam Plus.
Should you have two such devices then using a slider button on the base one can give left channel and the other right channel so stereo is possible.
The flat top of the unit is a fine grill mesh with only the word jam in the centre in a small silvered circular disc.
A 4.5cm strip runs round the central portion of its girth, my unit was blue with the top centimetre and the bottom two centimetre being a rubberised blue to match the top grill but the girth is in a more aquamarine blue.
The 2cm lower strip is where the controls are a line of five battery state, volume minus, play/pause, volume plus and Bluetooth.
Round the back are the two connections Line In 3.5mm socket and micro USB socket (lead provided) for charging the units internal battery.
The base has a slider switch left, mono and right and in the centre a rubberised on/off button. The base is lifted away from these controls by a black rubber ring so no danger of any furniture being scratched is removed.
So for anyone who has not come across the Jam range why is it called Jam? Simply because it arrived in a pot rather like a jam pot, it is of course wider and rather squat but that is the relationship.
Once you have removed the speaker from the pot there is an area near the top of the pot with a rubber seal that stores the 25cm micro USB to USB lead and the instructions. A nice touch as so many units when opened are either destroyed by opening or just discarded this pot is far more likely to survive and then when you need the instructions they are still available. These are in twelve languages and as far as the column in English is concerned clear and helpful.
While I tested a range of devices via Bluetooth I also played output from MP3 and my Audio system via 3.5mm lead and the quality was rather good.
If I have a criticism it's the just over four hours that the battery lasts between charges when running Bluetooth, it is far longer on 3.5mm lead.
While no one would buy this to replace speakers for an audio system – you would need two for stereo – it is a great improvement on the sound from internal speakers in a portable device. My first job was to turn the volume down on all such devices as the Jam Plus gave a far clearer a louder reproduction.
The Jam Plus is available from the link below for £28.35 with free delivery.
http://www.amazon.co.uk/gp/product/B00DZ69A4I?ie=UTF8&tag=gadge0a-21&linkCode=as2&camp=1634