Mini Canon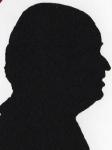 Not a weapon of war but a rather good small Bluetooth speaker that can vastly improve the sound of audio coming from your iOS or Android device. It is small enough to fit easily in a pocket or bag but it gives a very big sound.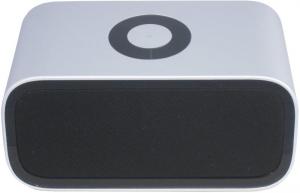 click image to enlarge
The Acoustiphase MC-1 Blue measures 12.5x6x5cm and weights just 357grams.
Setting up is straightforward and explained well in detail in the 12 page User Guide that has a clear easy to read type even for those of us of mature years with less than perfect eye sight.
Even though this is a Bluetooth unit it can be connected to devices by a 3.5mm cable (supplied) so even MP3 players of an older vintage can be used.
Behind the front grill is a pair of full range speakers and you also have two passive radiators. The stated output power is 2.5watts for each speaker but it sounds a good bit more.
It is Bluetooth 2.1 so this means those with older phones and other Bluetooth devices will still be able to make full use of it.
My unit was black and in less than perfect light tends to look rather menacing. Controls are a ring on the centre of the top which has a shiny black outer area which enhances the centre matt area.
On the right side is a three position slider switch that not only turns it on/off to preserve the internal solid battery when not in use but also links the unit to your play source.
The rear has two sockets the 3.5mm one for Auxiliary connections and a micro USB one (cable supplied) for charging.
The 14.5x9.5x8cm box has a foamed area in the base which is cut out up to 2cm to provide not only protection but holds the unit in place when being transported.
There are four tiny rubber feet on the base which unless you have really heavy bass being output will hold the unit steady on a level surface. In the 'Warning!' section of the User Guide under the heading Fall Hazard it mentions that you should not place it on a high shelf as the Mini Canon may move and could fall.
So before I get berated for not mentioning sound quality it was excellent and output from my iPod, Android Phone and even a vintage MP3 was more than acceptable. The first two were connected by Bluetooth and the last one by lead.
The stated battery life between charges was 'up to 8 hours' in fact in my tests in a normal room environment with no external noise a comfortable listening level produced nearer to nine hours in use before needing to be recharged. The stated recharge time of three was correct.
I found that even with a discharged battery you could still use it if plugged in and recharging this of course did increase the time till fully charged.
This is not a cheap unit but sound quality alone tells you this is a nice small unit.
Apart from the Black I was sent it is also available in Blue, Pink and Silver all these have a metallic paint type look.
The AcoustiPhase Mini Cannon is available from the link below for £79