Libratone Lounge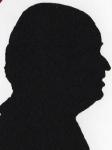 If you really want to improve the sound quality of your Apple device you need external sound, here is perhaps the widest single speaker unit I have looked at. From the same people that the recently reviewed Libratone Zipp came from, but bigger, much bigger.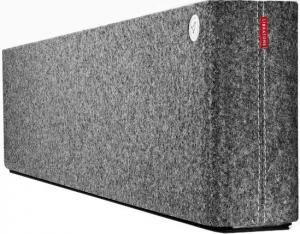 click image to enlarge
This Libratone Lounge measures 101x10.5x24cm. While there is a wall mounting kit provided I would check the wall strength before fitting it as it weights 12kilos.
I used it on the floor and in front of my TV on the TV unit.
This is designed as an 'i' device unit but can work with the humble PC it can also work as a soundbar with your TV using the provided proprietary Digital Optical cable. This looks exactly the same at the TV end but at the Libratone Lounge end it fits in what looks like a standard 3.5mm Auxiliary input. You can also use this same socket to connect any 3.5mm jack, not or course at the same time.
One important word of caution be sure that the volume level on your TV is very low as using its normal volume level will certainly be a huge jolt to your ears.
Unlike other soundbars there is no remote control and you control it simply from your TV, you have been warned. Where other recent soundbars increase the volume level by up to 3x this is a lot more than that.
The amplifier within the soundbar has a total of 150watts made up of 50watt base, 2x25watt tweeters and 2x25watt mid range, a big sound.
Unlike some other soundbars the TV sound is muted when using it via the Digital optical lead.
This however is not the main use of the Libratone Lounge, nor is it as an Auxiliary connection which fits in the same recess in the rear of the unit. Also this is where the mains lead fits and there is also an on/off rocker button in there, no other connections are included.
To use it in the main way intended you need to download a Free App from the Apple store or Android store or set up a Wi-Fi link or use DLNA. The main point here is that it uses its own Wi-Fi network within the unit so can connect to your device even where there is no Wi-Fi.
Full instructions are provided within the provided well illustrated Quick Start Guide and this goes through the very similar procedures for connecting an 'i' device, an Android device or even a PC or MAC.
There is one white button on the right end of the front of the unit and this has either a white or yellow LED either solid of flashing. I always found that the soundbar connected without any work even it had not been connected for days.
Sometimes with my 'i' device I had to search for the Libratone network other times it remembered, once it knows you are free to reconnect to your normal Wi-Fi network to do other things and you are still free to use AirPlay or PlayDirect while playing music.
My own opinion is that I would probably use a smaller unit such as the recently reviewed Libratone Zipp if I just wanted to play music partly for the cost and partly the portability.
However as a Soundbar it is top notch and beats other devices designed only for the job of being a soundbar but remember all control rests with your TV.
This is quality and as we all know 'Quality is not Cheap'. The Libratone Lounge is available from the link below for £1099 with free delivery; it currently is available in grey, black, red, green or beige from the link.
http://www.amazon.co.uk/gp/product/B005MWWGPI?ie=UTF8&tag=gadge0a-21&linkCode=as2&camp=1634