Lakeland Puzzles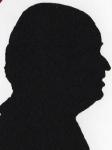 Two items from Lakeland, ideal for those who like to buy from catalogues; first a string puzzle called Brain String that I suppose is a bit like Cat's Cradle, second a puzzle cube that you need to transform into the Puzzleman character.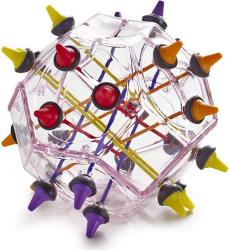 click image to enlarge
While Lakeland are best known by many for their catalogues they also have a web site and I see 64 shops around the UK.
Brain String
Only a couple of months till Christmas and the top of everyone's list are presents for the kids. Yes even in my day we preferred cash but relations such as grandparents and aunts etc. often prefer to give something different and this is certainly that.
A puzzle a little like 'Cat's Cradle' for those readers old enough to remember this string game.
It is made up of trios of coloured buttons that go through a sphere to join another trio of coloured buttons. Each one of these pair of coloured buttons is linked by a slightly elasticated string.
A total of 24 buttons and 12 pieces of string that each go from side to side of the clear plastic sphere your job is to get each string linked to its pair without any strings touching another string.
Take a good look at how it arrives as it may be sometime before you see it like that again!
Stated to be a puzzle for age 7-99, while no doubt any player will set themselves a target against the clock it is for one person at a time so ideal for those who have a single child.
One of the children who tried this was six and while he was not the quickest to complete, he certainly was not the slowest.
Some might liken this to the Rubic Cube as you are working in 3D, you need patience and while anyone could just solve it by trial and error a plan will always win in the end.
Brain String is available from Lakeland for £12.99
http://www.lakeland.co.uk/44002/Brainstring
Puzzleman
While people were testing the Brain String above they also looked at what may be an easier – or do I mean harder – puzzle. It arrives as a 6cm cube all the pieces are linked. The slightly easier task is to undo the shape and morph it into a man, you might say transform.
Once done you are not finished as you then have the slightly harder task of turning the man back into the 6cm cube.
When you have done that you may feel that you are done, not so as a small piece of paper shows another 16 shapes to transform your cube or man into.
In case it is not clear the pieces of the puzzle are linked together so no disassembly is possible. If you think it's easy my testers did not think so.
Again ideal for working on your own and no doubt there is a method to making things 'easy'. If you really get stuck a website with the answer is available.
Puzzleman is available from Lakeland for £5.99