Resonating Speakers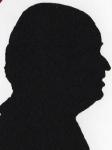 Both these units from rely of what you sit them on to produce the majority of volume, a small amount - enough for a quiet room – occurs naturally but place either of these of different solid surfaces makes everything come alive.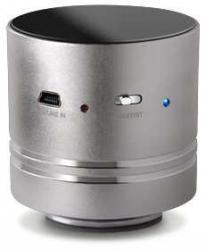 click image to enlarge
Cisor by Damson
A new name to me with the unusual motto 'designed in Yorkshire, made in China'. This of course insures UK standards of production quality.
It is circular 5.5cm and 6cm tall. Mine was a metallic light blue colour with two silver stripes around it near the base.
This is always going to be a personal speaker; methods of connection are either by the supplied 3.5mm jack or by Bluetooth.
The amount and depth of volume depend on what surface you stand it on wood is good glass gives a different tone but I suggest try everything as most of the volume comes from resonation from the surface it is on.
The rear of the unit has a three position slider on-off-Bluetooth. To the right of this a blue LED shines when on and flashes when searching for Bluetooth. To the left of the slider a red LED shines while charging the device.
It comes with a one metre 'Y' shaped lead which splits into two after 80cm. It is mini USB at the device and 3.5mm jack at one point of the 'Y' and USB – for charging at the other end of the 'Y'. The base has a grippy rubberised coating.
On certain surfaces the volume level is not that much more than what your iPod or MP3 player can give but with more tone. However on more resilient surfaces it can give a boost to the overall volume level but still a personal device.
Damson Cisor available from link below for £73.87 to £79.99 dependant on colour and has free delivery.
http://www.amazon.co.uk/gp/product/B007NYV9BA?ie=UTF8&tag=gadge0a-21&linkCode=as2&camp=1634
Damson Twist
This uses a similar technology and in my tests gave just that little more volume. It is again circular at 5.5inches but this unit is 7cm tall.
As the name suggests it twists to change from on-off-Bluetooth the top 3cm turns to achieve the stated states. There is a single silvered band 1cm wide below this and here is where the line in, micro USB and line out sockets are.
Instead of the 'Y' shaped cable above here you have two separate cables the 3.5mm one is 1.2metres long and the micro USB to USB one is 1metre.
Having a line out socket may seem a little unusual they state it is so you can link more than one unit. In Bluetooth mode the solid battery lasted around four hours and wired it lasted around 8hours and 40minutes between charges.
I found that playing the same tunes on the same range of surfaces I could set the 'Twist' to around 80% of the volume level of the 'Cisor' to achieve the same listening pleasure. Both units come with a carry bag mainly to protect the tacky surface on the base.
In the case of the Twist mine was Black but they also do Blue, Red and Silver.
This is still very new and I cannot yet find a link or price, I expect it to be about the same price as the Cisor above.