Withings Home HD Camera and more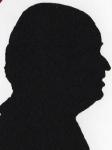 I visited the Withings stand at the Wearable Technology Show early in the year. You have already heard about their 'health' watch, here something else that was on display at the show a camera to monitor your home but with an extra feature.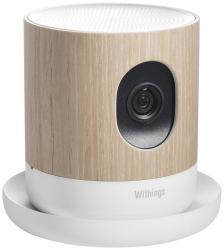 click image to enlarge
I like products that do not require a huge amount of specialist knowledge to assemble and setup. Take the 8cm tall round unit from the box and put it in the magnetic saucer provided.
It is perfectly round 7cm across and has what looks to me like a teak finish but I am told its 'European Light Oak'. The rear of the unit has three connectors USB, Ethernet and Power. Only one lead is provided for the power but as is the fashion it comes with tips to suit the UK, EU and USA. There is a small 24 page multi language Quick Start Guide that should be enough for most.
So what else do you need that you may not have oh yes an iOS device as this is currently designed for use with Apple devices, even though it has a PC interface it will only work with devices that has iOS 7 and above so some of the earlier iPad Touch devices may not work. So check you have suitable hardware. I am told that an Android version is being worked on.
Withings come from a Health background and I have reviewed other devices from them with this 'extra feature' it's an Air Quality Monitor.
When in use the lowest 2cm of this cylinder displays colours and a check in the Quick Start Guide tells you what the Blue, Orange, Green and Red lights it can show mean.
Having an HD camera with 5MP wide angle – 135 degrees - viewing as well as a movement sensor is great; it even has an option to save up to 30 days' worth of content in the Cloud. The one thing I found strange is that you can turn the cover so the lens is covered for 'privacy' let's hope any burglars do not read this.
If you do not have a Withings account you can set one up rapidly and it's Free. You setup the device to work via Ethernet – you will need a cable to do this – or perhaps easier to use Wi-Fi which is possibly why no Ethernet cable is supplied.
The unit has twin microphones and even a noise cancelling feature, if you use it as a baby monitor there is a feature that can play a lullaby which may save a parent making a few visits upstairs.
While Air Quality is monitored this does not include Carbon Monoxide which is perhaps the thing most likely to be important, perhaps that's why it's called the Silent Killer.
iOS devices always seem to be 'premium' priced products and this is no exception maybe if it included the Carbon Monoxide detector then the current price could be acceptable, maybe when Android and the increase in people being able to use it then the price may reduce.
The Withings Home is available for £169.95 with free delivery.
http://www.amazon.co.uk/gp/product/B00MNM0T4A?ie=UTF8&tag=gadge0a-21&linkCode=as2&camp=1634