Little speakers do not always have a small sound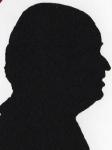 First something ideal for iPod or iPhone users it requires no power source and gives a good sound the Travel Speaker System from Griffin. Second the JBL on Tour Micro a single speaker that connects using a standard 3.5mm lead.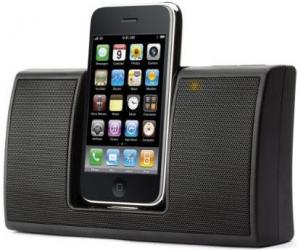 Travel Speaker System from Griffin
This is ideal when you do not want to use earbuds or headphones as the sound is amplified to give a decent sound level but it takes power from your iPod or iPhone so you do not need any mains or computer source nearby.
It is 18x10x3cm and is slightly convex, your iPod or iPhone fits in the centre 6.5cm part and the amount it protrudes above the top depends on which model of iPod you are using. You do not need any sleeve over the standard connector as a small spring loaded protrusion sits 6cm up the back of the unit keeping your iPod in place.
There are two small rubber feet on the base, the top right has volume up and down buttons. Towards the base of the back is an on/off slider and beside this a micro USB connector that allows you to charge your iPod while in situ. A USB lead is supplied however if you try charging while the PC is switched on the iPod will stop playing and try and sync.
If you have a mains to USB connector then this does not apply so you can then charge your iPod while you are listening. However sadly one of these is not included in the box. The only instructions are on the outside of the box.
This clever device gives a good raise to normal volume levels achievable from your iPod and can easily supply enough sound to fill a normal room. There is a amber LED that shows through the right speaker when the unit is powered on.
The only faults I can see are the badly placed on/off switch and not being able to charge while the PC is switched on. It is available from the link below for £19.99 with free delivery.
http://www.amazon.co.uk/gp/product/B004BYXTX6?ie=UTF8&tag=gadge0a-21&linkCode=as2&camp=1634
JBL On Tour Micro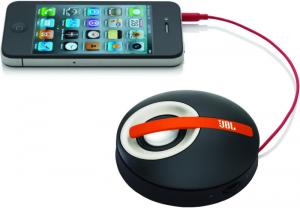 click image to enlarge
While this can be used with an iPod or iPhone using the built in 3.5mm adapter it can of course work with any MP3 player.
It is 8cm circular and up to 3cm thick but only 1cm at the front. The hard wired lead is 20cm so care of placement is required.
All the controls are around the side. The volume is towards the right with increased volume moving right to left. Mini USB (for charging the inbuilt battery) at the back together with an on/off slider and finally a 3.5mm output (not supplied) is on the left. The box (the only documentation) states this is to allow linking of several devices.
Again like the item above you get a good increase in sound from that provided by the iPod or MP3 player alone.
A fully charged battery is stated to last up to six hours, Again a decent sound level, my unit came without a mini USB to USB lead but I assume that was an oversight as surely it would not be sold without one of these leads.
Doing my searches found the JBL on Tour Micro at £34.99 with free delivery from the link below.
http://www.amazon.co.uk/gp/product/B006916J3G?ie=UTF8&tag=gadge0a-21&linkCode=as2&camp=1634