_Pure Kandi & _Pearl Drop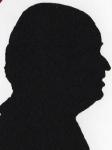 Two more offerings from Hedkandi, first a set of Headphones and amazingly they are blue and not pink. Second a small and compact travel speaker ideal for those occasions when you want to share your music with others.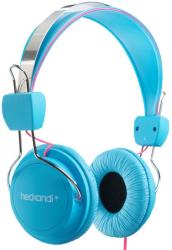 click image to enlarge
Hedkandi -PureKandi
A headphone set in turquoise blue with a pink extension lead should give you the idea that this is aimed at those in their teens.
Interestingly enough there is quite a bit of technical information about the headset on the side of the box; this is often missing – even in the small print – from a lot of more well known names in the headphone marketplace.
So since its there the Driver is 50mm, Frequency response is 20-20,000Hz, Sensitivity 103dB, Max Input power 100mW and the cable length is 1.5metres. No explanation why turquoise blue headset and 3.5jack plug have pink leads from the earpieces. I am no fashion expert but to me it looks wrong, however lets concentrate on sound.
The earpieces are round at 6cm and move 90degrees horizontally and close to 170degrees vertically. They are half covered in rubber but the top half is bare sprung steel, fine if you have plenty of hair but a bit hard on the head for those without hair.
They were just about big enough for me – a lot of recent headphones have had at least 1cm extra travel available – the first 35cm of lead is split so you might struggle to put it round the back of your neck. The last 1.15 metres is a single wire with around 8cm in the middle coiled to allow some flexibility before you pull one end or other out.
Sound quality was rather good and they were comfortable, however not surprisingly I did not wear them out a lot due to the colour combination. I did however try them in a noisier environment and they were quite good.
The –PureKandi Headphones are available on the link below for £19.99 with free delivery.
http://www.amazon.co.uk/gp/product/B000YT3ZOU?ie=UTF8&tag=gadge0a-21&linkCode=as2&camp=1634
http://www.hedkandi.com/electronics/product/30989/pure-kandi-blue-pink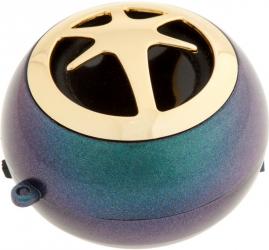 click image to enlarge
Hedkandi _PearlDrop
Sometimes you want to share your sounds and while you see lots having one earbud each ear but that still only caters for two.
This is circular at 4.5cm and is 3.5cm thick. It has an eye so it could hang round your neck and it gives a quite impressive sound when plugged into an iPod or MP3 player. There is only a single control an on/off slider.
It comes with a mini USB to USB lead to charge the inbuilt solid battery. It is 80cm long and splits 12cm from the end to a 3.5mm jack plug giving a Y connection. After the strange colour combination of the item above this has a normal black lead. The speaker itself is metallic blue with an offset gold coloured six pronged star on the face and it could well pass for jewellery. However no lanyard is supplied, for a lady a simple gold chain would look good. If I don't look out I will be giving fashion advice, certainly not my desire.
I would say the volume level is approximately double that output from the inbuilt iPod speaker, I could hear no distortion and certainly the sound does vary dependant on what sort of surface you place it on, I found it surprisingly good.
The Hedkandi _PearlDrop is available from the link below for £14.99 with free delivery.
http://www.amazon.co.uk/gp/product/B004U9XALS?ie=UTF8&tag=gadge0a-21&linkCode=as2&camp=1634
http://www.hedkandi.com/merchandise/product/30927/pearl-drop-speaker also available as a Glitter Ball.