Sound by Headphones or Speaker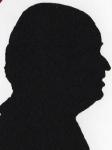 If you have a PC or Notebook with poor speakers then your normal option is to lump it or use headphones/earbuds, here some rather nice headphones – great for privacy – but also a second option is external speakers.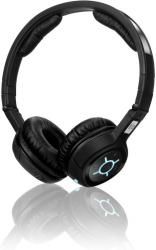 click image to enlarge
Sennheiser MM450
First the headphone solution, this is not a cheap solution but one anyone who sees it will think a single word quality.
In their non expanded state they are 16cm across 15cm high and a maximum of 5cm across at the earpieces. However the earpieces flip in and the whole will fit into a supplied zip up case 17x12x4cm so ideal for travelling.
Apart from the supplied 1.2metre micro USB to USB lead and a 1.5metre 3.5 to 3.5mm lead you also four mains plugs to cover most plug types in the world and two adapters one for airline type connectors and a 3.5 to 7.6mm adapter used by some hi-fis and professional equipment, which can fit into the zipped side pocket of the case.
These are not just headphones but they also have built in microphones to allow you to talk as well as listen and as they are Bluetooth you can pair them with most modern phones or PDA's. The first 11 pages of the manual explain all the ways your headphones can be used.
Not only are the earpieces padded in leather but so is the top of the headband so you should have real comfort. You also have a button that can introduce/disintroduce noise cancelling ideal for noisy surroundings.
These are quality headphones from a quality maker and while you might feel they are overkill for use with a PC or Notebook as they can double for use with your phone, smartphone or other portable device they are worth considering.
The Sennheiser MM450 Travel Headphones are available from the link below for £217.02.
http://www.sennheiser.co.uk/uk/home_en.nsf/root/private_headsets_mobile_music_502891
http://www.amazon.co.uk/gp/product/B002O03HHM?ie=UTF8&tag=gadge0a-21&linkCode=as2&camp=1634
Verbatim Portable USB Audio Bar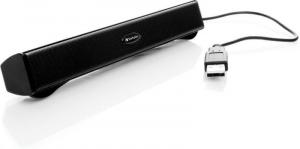 click image to enlarge
For those who want a speaker option this could be the answer especially if the sound chip in your PC or Notebook is naff as this uses USB for sound, a feature that if my memory is right was first introduced by Philips many years ago.
This is real plug and play on Windows XP, Vista or 7 just plug it in and the drivers are installed and you should have sound.
The bar is 10x2.5x2.5 both the width and depth can be more than those dimensions according to the way you use the holding balance arm.
It comes with a single instruction sheet most of the first side is in English but really once you plugged in the hard wired 55cm long USB lead and flipped open the back 'clip' there is nothing else to do apart from maybe adjusting the sound level within Windows.
Very easy and as its small it could easily fit in a notebook case and just as quickly be attached to give a decent sound.
When power is on there is an amber LED glowing near the centre of the unit to tell you it is connected and taking power.
The Verbatim Portable USB Audio Bar can be seen on the link below.
http://www.verbatim-europe.co.uk/en_1/product_portable-usb-audio-bar_33778.html