Paper Jamz Drums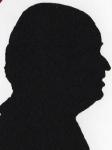 Review controls
First let me admit I am a frustrated drummer, second as regular readers will know I am a big jazz fan. However life does not always/sometimes/hardy ever give you what you want, here however for £25 I can enjoy myself.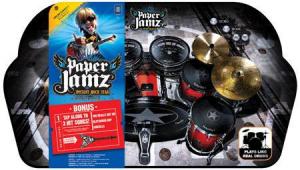 The board is 47x27x3cm and sits happily on your lap. You get six drums and four cymbals, how much room would a real set take? By the way if that is not enough there are two other complete drums kits in its memory to use.
Just as with the Paper Jamz Guitar reviewed recently the main market will be kids to see if they really have the inclination before parents buy a full set and probably a couple of sets of ear defenders. Here of course with the bedroom door shut the sound stays in the bedroom. Yes just like the Guitar you can buy the amplifier at £15 and also just like that as it's a 3.5mm socket you can output to anything and as the child improves that means the solos can be saved to a PC or notebook via numerous methods of saving sound inputs.
So no sticks just fingers and like the Guitar there are three songs in memory that you can play along to and as you improve actually play the drums to accompany them. However just as with the Guitar the real joy is Freestyle where it just plays what you play.
It is possible – assuming you have two kids - for the two to jam together either using Freestyle or the built in tunes with the instruments they are playing turned off. However if only one then you can just turn off the instrument not required.
During my tests I have spent far longer than actually required testing the drums and still now when I have few minutes they still get a play. A great way to right the wrongs of the day without upsetting the cat or your partner.
No mains power needs to go near the drums as they are powered by three 'AAA' batteries stated to last four hours in continuous play. However in my tests they lasted far longer in few minute increments. It is possible to use rechargeable batteries.
For frustrated – no talent – adults like me they are great. For a child it lets the parent know if this is a passing fad or something that they can take further. A possible career or just a dedicated hobby all can be tested here for very little cash.
I hesitate to call it a toy, but I suppose it is, still inside every adult is a child trying to get out. The sounds are great and being addicted to music as I am I know what a drum sounds like and have listened to thousands of drum solos from talented musicians over the decades so I can tell that through the small internal speaker the sounds are lifelike.
If you think about it the drum kit is probably around the same size a keyboard and as most are happy to let eight fingers and two thumbs work together to produce words. Just think what they can do on this miniature drum kit where a musician only has speed of movement two sticks sticks/brushes/mallet's and two feet to produce the sound.
In real life a drummer and perhaps a vibes player have the hardest job, longest to set up and the most to carry and move around. A double base is big but still manageable in comparison. It will just about go in a case and over a shoulder. In fact I know a couple who attach a small wheel to the base and move it that way. You will never do that with vibes or drums. That just requires dedication.
While I could see that the Paper Jamz Guitar could help a child to decide if that was the way he/she wanted to go. This piece of equipment does the same but really can give pleasure to an adult as well and while the former was given a highly commended this I feel is worth the extremely rarely awarded 5x5 award for sound, versatility, value in fact although only a toy it is probably my favourite thing that I have looked at in 2010.
Available from the link below for £24.99
http://www.firebox.com/product/2781/Paper-Jamz-Accessories?id=8787
http://www.wowwee.com/en/products/toys/entertainment/paper-jamz/drums